Successful crowdfunding effort ran last year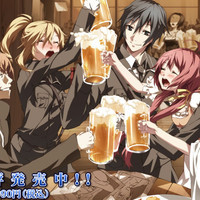 Last year, award-winning visual novel series Dies irae (music awards at the 2008 Bishoujo Game Awards and 2010 Moe Game Awards) had a summer 2017 TV anime adaptation announced, following a crowdfunding campaign from creators Light that aimed to raise 30 million yen ($250,000) for a pilot, but ended up ultimately raising 300% of its goal.
In a new update, Susumu Kudo (GoHand's Mardock Scramble sci-fi movies, the cancelled TATu movie) has been attached to the project, now scheduled for fall 2017 with a one cour run.
Crowdfounding bonuses are aiming for September, leading into the October anime. A drama CD and opening song music video are scheduled for April.
Genco (KinMoza!, Prison School) was previously listed as the producer with the light novel's designer/writer Takashi Masada handling series composition.
Cast from the games previously announced as reprising their roles include:
Fujii Ren - Toriumi Kousuke
Marie - Sakakibara Yui
Himuro Rea - Nabatame Hitomi
Yusa Shirou - Maeda Takeshi
Reinhard Heydrich - Suwabe Junichi
Wilhelm Ehrenburg - Taniyama Kishou
Rusalka Schwägerin - Inokuchi Yuka
J-List described the premise:
As the Soviet Union marches on Berlin in May of 1945, a secretive group of sorcerers and madmen gathers to perform a terrible ritual. They care nothing for the fate of the Reich. To them, the countless lives lost in the battle are the perfect sacrifice to fuel their spell. After the war, they vanish and are not heard from again, except in rumor. One day, it is whispered, they will return. And on that day, the world will end. Fear the demons in human form. Fear the Longinus Dreizehn Orden.

Flash forward to present-day Japan. Fujii Ren is released from the hospital after two months spent recovering from wounds suffered in a vicious brawl with his best friend Shiro. As Christmas approaches, he tries to rebuild his life, clinging to what brilliance remains. But even that is soon threatened. For the knights of the LDO have returned, and brought the apocalypse to his doorstep. Forced to wield the same unholy power as his foes, will Ren be able to protect what is dear to him from the inhuman might of the Longinus Dreizehn Orden?
------
Scott Green is editor and reporter for anime and manga at geek entertainment site Ain't It Cool News. Follow him on Twitter at @aicnanime.