General sale of its DVD/Blu-ray will begin on April 4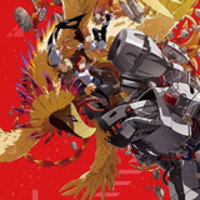 The official website for the six-part anime film project Digimon Adventure tri. today posted a poster visual for the next fourth part "Soushitsu (Loss), featuring Sora Takenouchi with her partner digimon Piyomon's ultimate form Hououmon, alongside Taichi Yagami and Yamato Ishida. The fourth part is currently scheduled to be screened at selected Japanese theaters from February 25, 2017, for a limited time of three weeks. The theater limited edition DVD/Blu-ray will be sold at the theaters during the screening period, then general sale of the regular edition will begin on April 4.
The third chapter "Kokuhaku (Confession)" was released at 11 theaters across Japan on September 24, and has earned 120 million yen from its 19-day run by October 12. As reported, it was originally scheduled to screen for three weeks and to end its theatrical run on October 14, but thanks to the box office success, it is still showing at the same theaters in its fourth week.
4th part poster visual
『デジモンアドベンチャー tri.第4章「喪失」』ポスタービジュアル公開!!
2017年2月25日(土)劇場上映&劇場限定版Blu-ray先行発売&先行有料配信同時スタート!!https://t.co/LHSOxymv0g#デジモン pic.twitter.com/nq24dYB0b9

— デジモンtri.第3章「告白」上映中 (@Digi_advntr15th) 2016年10月14日
---
1st part "Saikai" (Reunion) poster visual
2nd part "Ketsui" (Determination) poster visual
3rd part "Kokuhaku" (Confession) poster visual
---
Digimon Adventure tri. Part 3: Confession is also now available to Crunchyroll Premium Members. Free members
will be able to watch it starting October 23. It is available in the following territories: United States, Canada, South
Africa, Australia, New Zealand, Latin America, Albania, Algeria, Armenia, Azerbaijan, Bahrain, Belarus, Bosnia and
Herzegovina, Bulgaria, Croatia, Cyprus, Czech Republic, Denmark, Djibouti, Egypt, Estonia, Finland, Georgia, Hungary,
Iceland, Iran, Iraq, Israel, Jordan, Kuwait, Kazakhstan, Latvia, Lebanon, Libya, Liechtenstein, Lithuania, Macedonia,
Malta, Mauritania, Moldova, Montenegro, Morocco, Netherlands, Norway, Northern Cyprus, Oman, Palestine, Poland,
Qatar, Romania, Russia, Saudi Arabia, Serbia, Slovakia, Slovenia, Somalia, Spain, Sudan, Sweden, Syria, Tunisia,
Turkey, Ukraine, United Arab Emirates, Western Sahara, Yemen.
Source: "Digimon Adventure tri." official website
© Akiyoshi Hongo/Toei Animation