News announced at this weekend's AkibaFest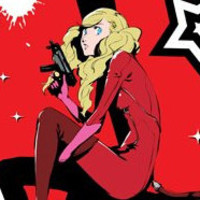 Aniplex of America announced at their industry panel at AkibaFest their plans to distribute the imported Blu-ray of PERSONA5 the Animation –THE DAY BREAKERS– starting February 14 of next year. Pre-orders will begin on their official site on Monday, October 17. This import will be distributed in limited quantities and will be sold only while supplies last.
The latest release in the PERSONA series will feature an all-star cast including Jun Fukuyama (DURARARA!!, Blue Exorcist, WAGNARIA!!) as the Protagonist, Mamoru Miyano (Full Metal Alchemist: Brotherhood, DURARARA!!, VALVRAVE the Liberator) as Ryuji Sakamoto, Nana Mizuki (Blast of Tempest, VALVRAVE the Liberator, WWW.WAGNARIA!!) as Anne Takamaki, Ikue Otani as Morgana, and Tomokazu Sugita (The irregular at magic high school, The Asterisk War, March comes in like a lion) as Yusuke Kitagawa.
About PERSONA5 the Animation –THE DAY BREAKERS–:
The story takes place in Tokyo, the city where people's desires intertwine. As disturbing incidents keep occurring in town, a rumor goes around that a group of people called the "Phantom Thieves of Hearts" has been reforming corrupt adults. One day, when a request letter is delivered to the "Ask the Phantom Thieves Channel," four high school students and one black cat decide to take action.
This is an original animation that links to the original game.
PERSONA5 the Animation –THE DAY BREAKERS– Collector's Edition features:
<IMPORT BD Features>
 Language: Japanese
 Subtitles: English
 Number of Discs: 2 (Feature & Bonus Disc)
 Total Run Time: Approx. 48 min.
 Rating: 13UP
<Bonus Contents>
 "Persona5" Special Programming (Interview with the Creators and Voice Actors) (English
Subtitled)
 Exclusive Package Art by Shigenori Soejima (Original Character Designer)
 Bonus Disc (Drama CD)
SRP: $49.98
Store Price: $39.98
Additionally, Aniplex of America announced they have that they have acquired Blue Exorcist: Kyoto Saga for their upcoming winter season lineup. Blue Exorcist: Kyoto Saga has been adapted from the Kyoto Arc of the popular Blue Exorcist manga series by original author Kazue Kato. The series is scheduled to run weekly in Japan starting in January 2017.
The series returns an all-star cast including Nobuhiko Okamoto as Rin Okumura, Jun Fukuyama as Yukio Okumura, Kana Hanazawa as Shiemi Moriyama, Kazuya Nakai as Ryuji Suguro, Koji Yusa as Renzo Shima, Yuki Kaji as Konekomaru Miwa, Eri Kitamura as Izumo Kamiki, Rina Sato as Shura Kirigakure, Ayahi Takagaki as Kuro, and Hiroshi Kamiya as Mephisto Pheles.
About Blue Exorcist: Kyoto Saga:
Assiah, the realm of humans, and Gehenna, the realm of demons. Normally, these two dimensions would never intersect, but having possessed all material substances, the demons are now intruding on the material world. But among the human race, there are those who can exorcise such demons—the exorcists.
Rin Okumura kept the fact that he was Satan's offspring a secret from everyone and decided to become an exorcist. He began his training at True Cross Academy but following the incidents involving Amaimon's raid, his lineage became apparent. Fearing his true nature and the blue flames marking his connection to Gehenna, Rin's classmates all distanced themselves from him. Meanwhile, the academy was on high alert when they realized that the "Left Eye of the Impure King" had been stolen! What lies ahead for Rin and his classmates?
STAFF
Original Story: Kazue Kato (published in Jump Square / Shueisha)
Director: Kouichi Hatsumi
Series Composition: Toshiya Ohno
Character Design: Keigo Sasaki
Music: Hiroyuki Sawano
Animation Production: A-1 Pictures
CAST
Rin Okumura: Nobuhiko Okamoto
Yukio Okumura: Jun Fukuyama
Shiemi Moriyama: Kana Hanazawa
Ryuji Suguro: Kazuya Nakai
Renzo Shima: Koji Yusa
Konekomaru Miwa: Yuki Kaji
Izumo Kamiki: Eri Kitamura
Kuro: Ayahi Takagaki
Shura Kirigakure: Rina Sato
Mephisto Pheles: Hiroshi Kamiya
Shiro Fujimoto: Keiji Fujiwara
------
Scott Green is editor and reporter for anime and manga at geek entertainment site Ain't It Cool News. Follow him on Twitter at @aicnanime.