"Saekano," "Girl Friend BETA," "your name.," "K-ON!" artists design the eight idols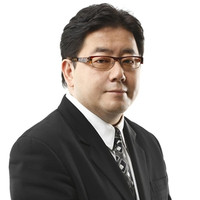 It is confirmed today that 58-year-old Yasushi Akimoto, best known for his producing works for Onyanko Club, AKB48 and other derived groups, plans to produce a new idol group consisting of eight 2D anime characters. And their responsible voice actresses will also perform as an idol group in the reality world. The concept of the project, co-planed by Sony Music Records and Aniplex, is "The Idols Who Transcend The Dimension."
Each character is designed by different creators. Currently their names and silhouettes are revealed.
Girl's name (age) / Responsible character designer
Miyako Kouno (15) / Mieko Hosoi (Grimgar of Fantasy and Ash anime character designer)
Nicole Saito (17) / Kurehito Misaki (Saekano: How to Raise a Boring Girlfriend novel illustrator)
Reika Sato (17) / Hirokazu Koyama from TYPE-MOON (Fate/Grand Order game character designer)
Miu Takigawa (16) / Yukiko Horiguchi (Lucky Star, K-ON!, Tamako Market anime character designer)
Ayaka Tachikawa (16) / Koharu Sakura from QP:flapper (Girl Friend BETA game character designer)
Jun Toda (16) / Masayoshi Tanaka (Anohana: The Flower We Saw That Day, your name.character designer)
Sakura Fujima (17) / Kantoku (The "Hentai" Prince and the Stony Cat. novel illustrator)
Akane Maruyama (17) / Tometa Ohara from QP:flapper (Girl Friend BETA game character designer)
---
The Digital Idol Audition for the eight voice actresses will be held from today to December 17, then its
final examination is scheduled on December 24. Entries for the audition is now accepted till November 11,
and the qualifying age is between 15 to 25 years. As of now, the name of the group is not decided.
According to the staff, their CD debut and an anime project are included in the project.
Yasushi Akimoto
Source: press release