Original manga author Matsui supervises the screenplay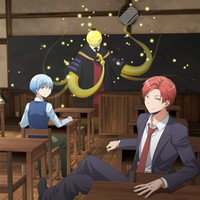 Following the first one showing their backs, the official website for the upcoming Ansatsu Kyoushitsu: 365 Nichi no Jikan/Assassination Classroom: The Time of 365 Days compilation film today updated with an another new key visual introducing Nagisa and Karma sitting in their old classroom seven years after the main story. It is also confirmed that the newly-produced episode to be added to the film will feature the meeting of the two at the schoolhouse one day before the reunion of the Class 3-E.
With a parody short Koro Sensei Quest/Koro Teacher Quest set at the Kunugigaoka Magical School in a fantasy world, the compilation film of the 47-episode TV anime series will run at 27 theaters in Japan from November 19 for an unspecified limited time. The screenplay of the film including the new episode is written with full cooperation by the original manga author Yusei Matsui. And the theme song for the film is confirmed to be performed by Shion Miyawaki, who previously sang the ED and insert songs for the TV anime second season.
【新キービジュアル公開!】
7年後の渚とカルマ、そして殺せんせーが教室に佇む、印象的なビジュアルです。
7年後の旧校舎で、殺せんせーの面影を感じながら2人が語る想いとは…。#暗殺教室https://t.co/Pvzewsqv5f pic.twitter.com/eEWa9JCWF0

— アニメ『暗殺教室』@前売第2弾発売中! (@ansatsu_anime) October 17, 2016
2nd teaser
1st teaser
Previous key visual
【渚と業の7年後】
『劇場版「暗殺教室」365日の時間』のキービジュアル第2弾が公開されました!
卒業から7年後、再び旧校舎の前に立つ渚と業。成長とともに大きく身長差がついた2人ですが、暗殺教室を卒業し、どことなく自信に満ち溢れた立ち姿をしています。#暗殺教室 pic.twitter.com/qRzSUueIlQ

— アニメ『暗殺教室』公式@11.19公開! (@ansatsu_anime) 2016年9月26日
Flyer visual
Source: "Assassination Classroom" anime official website, Twitter
© Yusei Matsui/Shueisha, Anime "Assassination Classroom" Production Committee