Directed by Hajime Kamegaki (Naruto Shippuden films, Lupin the 3rd vs. Detective Conan)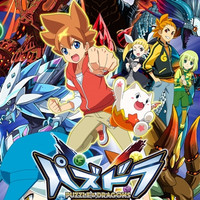 GungHo Online Entertainment announced today that the ongoing TV anime adaptation of its Nintendo 3DS game Puzzle & Dragons X has been viewed online over 23 million times worldwide (3 million in Japan, 20 million in China) as of October 16.
The game was released in Japan on July 28, 2016, in two editions: "Kami no Shou" (Chapter: God) and "Ryu no Shou" (Chapter: Dragon). Its TV anime adaptation produced by Studio Pierrot (Naruto, Bleach, Osomatsu-san) also premiered on TV Tokyo on July 4, 2016, and has been legitimately streamed online in China, US, Canada, UK, and Ireland.
It has been available to Crunchyroll members in US, Canada, UK, and Ireland.
TV anime PV
Source: GungHo Online Entertainment
(C)GungHo Online Entertainment, Inc. All Rights Reserved.