Created in association with A-1 Pictures and Crunchyroll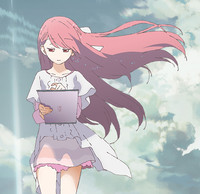 It's here: musician Porter Robinson's visually dazzling and emotionally moving anime music video for his new song SHELTER, made in association with A-1 Pictures (Sword Art Online) and your pals at Crunchyroll!
SHELTER, tells the story of Rin, a 17-year-old girl who lives her life inside of a futuristic simulation completely by herself in infinite, beautiful loneliness. Each day, Rin awakens in virtual reality and uses a tablet which controls the simulation to create a new, different, beautiful world for herself. But all is not as it seems…
Says Porter Robinson, who also created the original story and characters in SHELTER:
"Japanese pop culture and anime have been a huge influence on my music, so getting the chance to make my own anime is very much a dream come true. To actually collaborate on creating anime is just unbelievable," Robinson explains. "The video forSHELTER is the most concrete distillation of being immersed into fantasy and it's connection to reality. Most of our life experience is now in some way connected to technology. The world of SHELTER, this virtual reality universe that she's stuck in where she has this superpower to create environments and go around and play in them and explore them everyday. It's a beautiful notion and something that's relevant to my own sensibility as an artist".
SHELTER features direction by Toshifumi Akai and character design by Megumi Kouno, both veterans of THE [email protected] anime series and more. Says Tomonori Ochikoshi, President of A-1 Pictures, "Porter is extremely knowledgeable about Japanese animation and he inspired us with his expectations for what he could create with us. The resulting collaboration is a work that A-1 can be proud of."
Vince Shortino, Executive Vice President of Crunchyroll, worked behind the scenes with his team to make the SHELTER anime a reality. A veteran of several global anime music videos (including collaborations between Japanese creators and musicians like Sade, David Byrne, and Sigur Rós for the Zapuni 3.11 charity), Shortino says, "Combining Porter's music, storytelling and direction with amazing anime creators, the SHELTER film is a showcase for the power and potential of collaboration between global artists and the Japanese anime community."
Porter Robinson is currently performing across North America with Madeon on the SHELTER Live Tour. For more information, visit
porterrobinson.com
.
For more info on the SHELTER anime, visit sheltertheanimation.com