Newly-animated "Kantoku Fuyuki Todoki" episode will be screened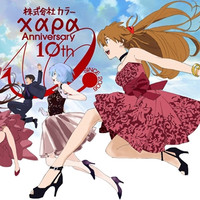 Studio khara, a Tokyo-based animation studio best known for its Rebuild of Evangelion film series, was founded by acclaimed anime/tokusatsu director Hideaki Anno in May 2006. To celebrates its 10th anniversary, it will hold its first exhibition titled "-Koremade no Eva to Korekara no Eva, Soshite Ima no Studio khara- (Eva so far and Eva in future, And the present Studio khara)" at Laforet Museum Harajuku in Tokyo for eight days from November 23 to 30.
The exhibition will display about 300 items including:
160 key animation drawings and design references (including never shown before arts) and promotional visuals from the Rebuild of Evangelion film series
Three prototype models (2nd, 3rd, and 4th form) of Godzilla from the Shin Godzilla film that Anno served as the screenplay writer and general director
Production materials from the Japan Animator Expo project
Screening of a newly animated episode "Ookina Kabu" from Moyoco Anno's Kantoku Fuyuki Todoki (Insufficient Direction) manga
Screening of the music video of Hikaru Utada's "Sakura Nagashi (Eva: Q version)"
Materials from the cultural activities operated by Studio khara to conserve the Japanese anime/tokusatsu culture
---
Entrance fee is 500 yen. Advance tickets will go on sale at Amazon Japan (1,500 yen with an A4-size
poster) and Lawson Ticket (1,000 yen with a clear file) at 00:00 on October 21.
Main visual newly drawn by Takeshi Honda, the chief animation director of Evangelion: 3.0 You Can (Not) Redo.
Hideaki Anno
C-1326 key animation drawing from Evangelion: 3.0 You Can (Not) Redo
Poster visual for the Amazon advance ticket
Source: Studio khara press release