Directed by Osamu Yamasaki (Toward the Terra, Hakuouki, Time Travel Girl)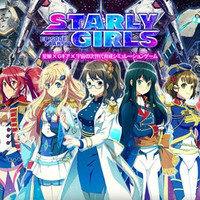 At the presentation event held by Alpha Games in Beijing, China, on October 14, Kadokawa Games and Alpha Games announced that a web anime adaptation of Aeria Games and Kadokawa Game's co-produced smartphone game Starly Girls -Episode Starsia- is in the works for streaming in 2018.
The "next-generation training simulation" game for iOS and Android is now accepting pre-registrations for the upcoming launch. In the game, the player serves as the captain of the super gravity ship Asterism, and trains the Hoshimusu (starly girls) and organize their troops to challenge the battles in space using the special mobile weapon "G-Gear."
The 12-episode web anime is titled "星娘"(Hoshimusu) in Japanese now, and the length of one episode is 22 minutes. Kadokawa Games provides the original story for the anime and works on anime production, while Alpha Games is in charge of the distribution in China. The game itself is also scheduled
to be available in China in 2017 with the Chinese title "星娘収蔵" (Chinese official website).
Osamu Yamasaki, who worked on Toward the Terra (2007 TV anime series) and the Hakuouki series
(2010-2013), and the most recent Time Travel Girl: Mari, Waka, and the Eight Scientists this year, is
attached to direct.
Visual from the web anime
Main visual for the game
1st trailer for the game
1st game play trailer
Source: Aeria Games press release
(c) Aeria Games / KADOKAWA GAMES