New girls band-themed TV anime will premiere in January 2017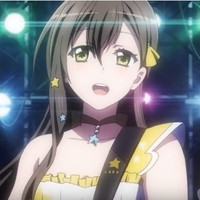 Following the first one for vocalist/guitarist Kasumi Toyama, the official YouTube channel of Bushiroad's media mix project BanG Dream! today posted a second character PV introducing the five-member girl band Poppin'Party's lead guitarist, Tae Hanazono voiced by Sae Otsuka. This is 21-year-old Otsuka's anime voice actress debut role. The ISSEN and XEBEC-produced TV anime series is set to premiere in January 2017.
Tae Hanazono character PV
Live2D self introduction video for the smartphone game "BanG Dream Girls Band Party!" to be available in Spring 2017
【Live2Dのキャラクター紹介映像!】
Poppin'Partyのリードギター「花園たえ」!
マイペースでかなりの天然。
時折予想外の行動で周囲を驚かせることも!?
でも音楽への情熱は人一倍!
予定より早い公開ですが、次々お届けしていきます♪#ガルパ #バンドリ pic.twitter.com/bN09SXKVVL

— バンドリ! ガールズバンドパーティ! (@bang_dream_gbp) October 19, 2016
Sae Otsuka's latest photo on her official Twitter
ヘッドホンを買おうか迷い中

これは収録♪ pic.twitter.com/GjlH2WnzVQ

— 大塚紗英 (@OSae1010) October 19, 2016
Kasumi Toyama character PV
---
The voice actresses of the main five girls also perform as an actual band playing instruments by
themselves on stage. The band, consisting of Aimi (Kasumi Toyama/guitar, vocal), Ayasa Ito (Arisa
Ichigaya/keyboard), Rimi Nishimoto (Rimi Ushigome/bass), Sae Ohtsuka (Tae Hanazono/lead guitar),
and Ayaka Ohashi (Saaya Yamabuki/drums), are scheduled to hold their second solo live "BanG Dream!
Second☆LIVE Starrin' PARTY 2016!" at Tokyo Dome City Hall on November 13, 2016, and its tickets
have been already sold out.
Official image visual for the second live concert
Poppin'Party
PV
---
"BanG Dream!" Trailer 1
Main Visual
Source: "BanG_Dream!" official website
© bushiroad