Simulcast begins 10/22, back episodes to be filled in soon after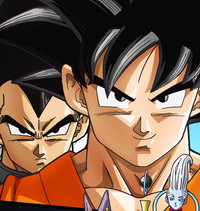 OOOOOH YEAAAAAH! It's another big milestone for Crunchyroll as we proudly announce that Dragon Ball Super is set to begin streaming and simulcasting soon!
This month, anime fans will be able to stream current episodes of Dragon Ball Super on the Crunchyroll platform in simulcast as they air in Japan, starting with Episode 63. In the coming weeks, Crunchyroll will also be subsequently rolling out access to the more than sixty episodes of the series that had previously aired.
Dragon Ball Super begins streaming on October 22 at 6:00pm PT with episode 63. Regions for paid and free users include United States, Canada, Australia, and New Zealand. Dragon Ball Super will also be available to Crunchyroll paid members in Latin America and South Africa.
About Dragon Ball Super
Arguably the biggest and most influential anime franchise of the last several decades, Dragon Ball's latest series continues the story from the wildly popular manga of the same name, and has been highly anticipated by U.S. fans as soon as the series was announced and started airing in Japan last year.
"We're thrilled that this licensing partnership with Toei Animation means that Crunchyroll will provide American fans access to Dragon Ball Super," said Crunchyroll Co-Founder and General Manager Kun Gao. "Crunchyroll has always strived to be a beacon for anime fans to watch the shows they love through safe and legal means, and now that Dragon Ball Super will become available on our platform, fans no longer have to resort to drastic means to find out how the story continues after decades of waiting for a reboot."

"Crunchyroll has long been a valued partner and we're excited to present Dragon Ball Super to its vibrant community," said Masayuki Endo, President of Toei Animation Inc. "The amount of work and imagination that went into creating Dragon Ball Super is unprecedented and we appreciate the awesome contributions of Mr. Toriyama and our team at Toei."
----
Patrick Macias is editor in chief of Crunchyroll News & Otaku USA magazine.
He is also the writer of HYPERSONIC music club, Paranoia Girls, & PARK Harajuku: Crisis Team!