Winners will get one set match against two anime VAs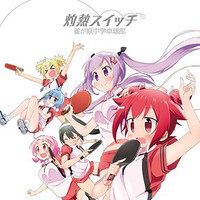 The official website for the ongoing TV anime adaptation of Yagura Asano's sport manga Shakunetsu no Takkyu Musume/Scorching Ping Pong Girls today announced that a real table tennis tournament titled "Shakunetsu no Takkyu Musume Hai/Scorching Ping Pong Girls Cup" will be held at AKIBA Takkyu Style, a table tennis room/lounge located in Kandaizumi-cho, Tokyo, on November 20.
Applicants are chosen by a lottery and entries will be accepted till November 11. No previous experience is required. The winners of the tournament will have an opportunity to have one set match against two voice actresses of the anime, Ayaka Imamura (Mune Omune) and Hisako Tojo (Kiruka Ushirode) and get a racket autographed by the six main cast (Yumiri Hanamori, Minami Tanaka, Marika Kouno, Yuuki Kuwahara, Imammura, Tojo).
Ayaka Imamura/Hisako Tojo
And during the collaboration period between October 20 and November 21, all the customers who visit
AKIBA Takkyu Style will receive one of six character tin badges.
お酒を飲みながら卓球を楽しめるお店「Akiba卓球スタイル」と 『灼熱の卓球娘』とのコラボが決定しました。 コラボ期間中に来店すると、来店特典として特製缶バッチをお一つプレゼント。ぜひ卓球の腕も磨いてみてください!https://t.co/e6XvecmOjK#卓球娘 pic.twitter.com/3Z8twEsypP

— TVアニメ「灼熱の卓球娘」公式 (@syakunetsu_PR) October 14, 2016
---
The TV anime Shakunetsu no Takkyu Musume/Scorching Ping Pong Girls premiered in Japan on October 3
and has been available to Crunchyroll audience worldwide except Asia. The first DVD/Blu-ray volume containing
its first two episodes will be released on December 23, 2016.
Jacket illustration for the first volume
Each volume's first press limited edition includes two tribute illustration postcards. One for the first volume
is drawn by adult manga artist Kinku (see a sample image below).
そして、「灼熱の卓球娘」BD/DVD初回生産限定版の特典を順次公開していきます!
公開第一弾は、『きんく』先生より頂いたトリビュートイラスト(*'▽')♡
ポストカード仕様で第一巻に封入されます♪
BD/DVD情報は⇒https://t.co/IPg8yzX253#卓球娘 pic.twitter.com/DzEZhsmmc6

— TVアニメ「灼熱の卓球娘」公式 (@syakunetsu_PR) October 17, 2016
---
TV anime PV
Key visual
Source: "Shakunetsu no Takkyu Musume" TV anime official website
© Yagura Asano/Shueisha, Shakunetsu no Takkyu Musume production Committee