Packaging also previewed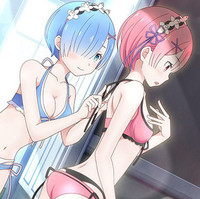 Plans for 5pb.'s (Steins;Gate) Re:ZERO -Starting Life in Another World- DEATH OR KISS visual novel have been updated with news that Konomi Suzuki, who sung first anime theme , "Redo," will sing the game's opening "yell! Kuchibiru kara Hajimaru Mahou (yell! magic starts with a kiss)", while Inori Minase (Rem) and Rie Murakawa (Ram) are on ending "Dai Dai Daisuki."
PS4、PS Vitaゲーム「Re:ゼロから始める異世界生活 -DEATH OR KISS-」公式サイトがオープン!原作:長月達平先生のコメント、オリジナル主題歌情報も掲載されてますよ♪ →
https://t.co/gb4Uul2uf1#rezero #リゼロ

— 『Re:ゼロから始める異世界生活』公式 (@Rezero_official) October 21, 2016
The title of the game is literal. In its original story, the Ruler Election has spun off a beauty contest, giving the winner a treasure that promises the recipient great luck and a powerful advantage to achieving the throne.
Except, the prize isn't what it seems, and, taking on its "Death Curse," Subaru must use his power to return from the dead to solve the mystery, build trust with the girls, receive the "kiss of a beautiful girl' and break the curse to escape death.
Candidates for a relationship with Subaru include Emilia, Rem, Ram, Felt, Beatrice, Crusch, Priscilla and Anastasia.
A contest that the five candidates appear in, known as the Beautiful Queen General Election (美女王総選挙 Bijouou Sousenkyo, is held, with judging in several categories such as ornateness and elegance. The winner gets their name known throughout the kingdom and receive a Meteor said to bring good luck. However, when Subaru was helping out with the contest, he accidentally kissed the item, causing the item to tell him "Give me your blood...in exchange for that, you will receive a divine protection which will allow you kiss the opposite gender. If you tell anyone about this curse, you will be plagued with unbearable misfortune". Because of the misfortune that came from the curse, Subaru is forced to use his Returns by Death, and upon asking Beatrice to help him, he learns that he needs a kiss to get rid of the curse. To get rid of the curse, Subaru begins to get friendlier with Emilia and the others and also starts interfering with the contest to make sure no one receives the item.
The release is scheduled for March 23, 2017. 11,350 limited edition, 8100yen standard and 7.560yen digital on PS4 and Vita. The PS4 limited edition includes a super deformed Ram figure while the Vita will have an SD Rem. Both include a soundtrack.
------
Scott Green is editor and reporter for anime and manga at geek entertainment site Ain't It Cool News. Follow him on Twitter at @aicnanime.