Here's a somewhat fraught subject.....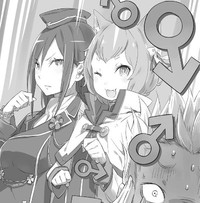 Here's a somewhat fraught subject. Goo Rankings asked Japanese anime fans to name their favorite otokonoko - a term more applicable to otaku culture, fictional characters and performative appearance than gender identity IRL. In a new poll, they asked Japanese fans to name their favorite male character who looks or dresses in a female fashion.
Classic characters did well, including the ex-assassin from Mineo Maya's 1978 ongoing Patalliro! - with a male character who has gotten pregnant multiple times.
Consistent with Goo's methodology, they collected 500 votes from fans in their 20s and 30s. 250 from male votes and 250 from female voters.
48. (tie) Another's Yūya Mochizuki
48. D-Frag's Sakuragaoka
45. (tie) H2O -FOOTPRINTS IN THE SAND-'s Hamaji Yakumo
45. Little Busters's Riki Nao
45. MM!'s Tatsukichi Hayama
43. (tie) Gatchman Crowds!'s Rui Ninomiya
43. Phi Brain's Ana Gram
41. (tie) If Her Flag Breaks' Megumu Tōzokuyama
41. Overlord's Mare Bello Fiore
39. (tie) Inazuma Eleven's Byron Love
39. I Can't Understand What My Husband Is Saying's Mayotama
35. (tie) Oreshura's Kaoru Asoi
35. Here Is Greenwood's Shun Kisaragi
35. Hacka Doll's Hacka Doll #3
35. Hayate The Combat Butler's Hayate Ayasaki/Hermione Ayasaki
30 (tie) Danganronpa's Chihiro Fujisaki
30. Fruits Basket's Ritsu Sohma
30. Devil and Realist's Sytry
30. Hearcatch Precure's Itsuki Myoudouin
30. The Pet Girl of Sakurasou's Ryūnosuke Akasaka
26. (tie) Genshiken's Kenjiro Hato
26. Maria Holic's Mariya Shidō
26. Happiness' Jun Watarase
26. Ultimate Otaku Teacher's Kōtarō Araki (Luce)
23. (tie) Otome wa Boku ni Koishiteru's Mizuho Miyanokouji
23. Rampo Kitan: Game of Laplace's Kobayashi
23. PriPara's Reona West
22. Working's Sōta Takanashi (Kotori)
20. (tie) Himegoto's Kaguya Arikawa
20. Nanana's Buried Treasure's Daruku Hoshino
19. tome wa Boku ni Koishiteru's Chihaya Kisakinomiya
18. Sacred Seven's Fei Zhui Lau
17. Fushigu Yuugi's Nuriko
15. (tie) Moyasimon: Tales of Agriculture's Kei Yūki
15. ERASED's Hiromi Sugita
12. (tie) Stop!! Hibari-kun!'s Hibari Ōzora
12. Nyarko-san's Hasuta
12. High School DxD's Gasper Bloody
11. Uta no Prince-Sama's Ringo Tsukimiya
10. Re:Zero's Felix "Ferris" Argyle
9. Assassination Classroom's Nagisa Shiota
8. High School! Kimengumi's Monohoshi Dai
7. Naruto's Haku
6. Kenshin's Honjō Kamatari
5. Himegoto's Hime Arikawa
4. Steins;Gate's Luka Urushibara
3. My Youth Romantic Comedy Is Wrong, As I Expected's Saika Totsuka
2. Patalliro!'s Maraich Juschenfe
1. Baka and Test's Hideyoshi Kinoshita

------
Scott Green is editor and reporter for anime and manga at geek entertainment site Ain't It Cool News. Follow him on Twitter at @aicnanime.