Novel's latest 6th volume will be released on November 19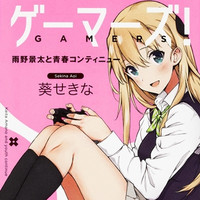 It was also officially announced at the Fantasia Bunko Big Thanks Festival 2016 event held in Akihabara today that an anime adaptation of Sekina Aoi's school comedy light novel series Gamers! is now in the works. How and when it will distributed are not confirmed yet. This is the second animated series for the author. His Student Council's Discretion series was adapted into TV anime twice in 2009 (by Studio Deen) and 2013 (by AIC).
Gamers! has been published from Kadokawa's Fujimi Fantasia Bunko imprint since March 2015, and its latest 6th volume is set to be released on November 19, 2016. And its manga adaptation illustrated by Tsubasa Takahashi will start its serialization in the December 2016 issue of Kadokawa's Shonen Ace magazine to be released on October 26.
The story centers on an ordinary second grade high school student Keita Amano whose hobby is playing
games of the general kind. One day, he is invited to the game club by its president, Karen Tendo, who is
known as the most beautiful girl at his school. Is this the beginning of the typical high school harem life
with bishoujo girls?
1st CM for the novel (March 2015)
2nd CM (July 2016)
Novel 1st and 2nd volume
3rd and 4th
5th
Announcement illustration by the manga illustrator Tsubasa Takahashi
【告知】10月26日発売の少年エース12月号より葵せきなさん原作「ゲーマーズ!」コミカライズ担当させていただくことになりました。どうぞよろしくお願いしますー! pic.twitter.com/k4glwIsdJr

— 髙橋つばさ (@WingT2) September 26, 2016
via: Mantan Web