"One Piece" wrapping trains will run through the region till February 2017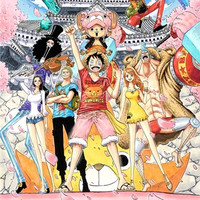 The Kumamoto earthquake (Mj7.3) hit wide parts of the Kyushu area in Japan in April of this year, has killed 120 people and damaged many of the region's iconic landmarks, including Kumamoto Castle built in the late 15th century in Kumamoto-city. 41-year-old manga artist Eiichiro Oda, who was born in Kumamoto-city in 1975, has supported the "One Piece Kumamoto Recovery Project" featuring his internationally popular manga series.
The project includes fiver components:
Those who donates over 10,000 yen to Kumamoto Castle between November 1, 2016 and March 31, 2017, will receive an original "One Piece" goods.
Those who pays over 10,000 yen hometown tax to Mashiki-cho, one of the most destroyed areas, will receive an original item using Oda's newly drawn illustration.
All the profits from the "One Piece" x Kumamon (Kumamoto's popular mascot character) collaboration goods to be released by Showa Note will be donated to Kumamoto.
A stamp rally will be hold in Kamiamakusa-city, and its winners will get a limited "One Piece" goods.
Kumagawa Rail Road and Manami Aso Railway will run "One Piece" wrapping trains till February 2017.
"One Piece Kumamoto Recovery Project" main visual
Project logo
"One Piece" and Kumamon collaboration visual
---
Soon after the earthquake hit Kumamoto, One Piece.com posted an illustration message from Oda.
尾田栄一郎より熊本へメッセージ https://t.co/rfO6sglt8H pic.twitter.com/XVnBDMkl5C

— ONE PIECE.com (@OPcom_info) 2016年4月19日
A huge earthquake has struck Kumamoto (and all Kyushu area).
I was born in Kumamoto, it's my hometown.
I would like to offer my deep and sincere sympathy to the people who have suffered direct damage.
I have been luckily able to make contact directly with my family and friends. They are still afraid,
but are also trying to keep hanging on. Everyone even says things that make me feel relieved.
How strong they are!
But people cannot brace themselves forever. I hope the situation will be settled before their strength
is entirely spent. Adults are doing their best not to make children worried. I want children to smile the
most!! Because that's the best encouragement for adults!!
Currently it is a little difficult to provide supports from private sectors, but I promise that I will
definitely help the reconstruction. So please hang in there!
Luffy says, "Don't give up!! I will surely go there!!"
via: Comic Nalatlie