Highly-anticipated anime/live-action hybrid film hits theaters December 17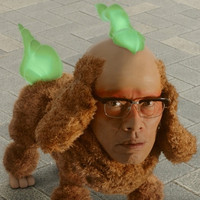 The official website for Eiga Yo-Kai Watch Soratobu Kujira to Double Sekai no Daibouken da Nyan! (Yo-Kai Watch The Movie: The Great Adventure of the Flying Whale and the Double World), the third feature film from the Yo-Kai Watch anime franchise, today posted a 90-second second trailer to introduce more live-action cast, including Kenichi Endoh as Jinmenken (Human Face Dog), in addition to the previously reported Kento Yamazaki as Enma Daioh (the strongest yokai who rules the yoma world) and Takumi Saito as Nurarihyon (Enma's close adviser).
2nd trailer
衝撃すぎ!妖怪・じんめん犬、遠藤憲一がふんする! #映画妖怪ウォッチ3 https://t.co/osz9Vt4WgN pic.twitter.com/wOAux8CL0i

— シネマトゥデイ (@cinematoday) October 26, 2016
The film will be told in two worlds: the usual 2D animated world and a live-action world featuring real actors.
10-year-old child actor Ryouka Minamide, who previously played the childhood Jinta Yadomi in the live-action
drama adaptation of Anohana: The Flower We Saw That Day aired in September 2105, cast as the protagonist
Keita Amano in the live-action part, while Jibanyan is drawn in 3DCG. The third film is set for a release in
Japan on December 17, 2016.
New promotional visual
Source: "Eiga Yo-Kai Watch Soratobu Kujira to Double Sekai no Daibouken da Nyan!" official website via: Cimema Today
© LEVEL-5/Movie "Yo-Kai Watch" Project 2016