Find out which new anime people in every part of the United States are watching!!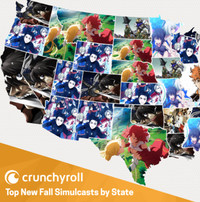 I love maps, but after more than a year of closely following election coverage here in the US, I'm sick of seeing my home country painted red, blue, or some other primary color nonsense. What I'd rather see on my map is anime, so I set out to answer some important questions!!
What are some of the biggest anime of the Fall Season?! Are your tastes in anime inspired by your geography? Is your favorite anime this season just as popular with your neighbors? To answer these and many more questions, we've created a map that highlights the most popular Fall Anime by state!
We thought it'd be fun to share a map of the United States with everyone here, only this map is filled in with the most popular new series in the state! This looks at what the most popular new Fall simulcast is by state, for the week ending Saturday, 10/22, and only new series, so perrenial favorites like
Naruto
and
One Piece
aren't included. I wonder what it'll look like by the end of the season!
The country's three biggest states all have different favorites: California loves
Drifters
most of all, but New York is ready for a round of
Keijo!!!!!!!
- while Texas is enamored by the WWII-inspired drama of
Izetta: The Last Witch
. Even with this, it's hard to tell what America's number #1 anime is for the season, but Drifters does seem to have the most states represented on the map! With more than 55 new anime in the running, only seven have made it to this stage, with
Bungo Stray Dogs
making a single appearance in Arkansas.
What do you think of the map? If you live in the States, is your favorite #1 where you live?! What anime should be on the map but aren't?? If you want to help change the map, make sure to watch your favorite anime and convince all of your friends to do the same!!
Let us know what you think!! We had fun making this infographic to share with everyone, and we want to do more things like this. We're interested in your ideas and thoughts ~
For those of you less familiar with the map of the United States, we've also listed the top anime of each state below:
| | |
| --- | --- |
| State | Favorite Anime |
| Alabama | Drifters |
| Alaska | Izetta: The Last Witch |
| Arizona | Yuri!!! On ICE |
| Arkansas | Bungo Stray Dogs |
| California | Drifters |
| Colorado | Drifters |
| Connecticut | Keijo!!!!!!!! |
| Delaware | Izetta: The Last Witch |
| District of Columbia | Haikyu!! |
| Florida | Drifters |
| Georgia | Keijo!!!!!!!! |
| Hawaii | Haikyu!! |
| Idaho | Izetta: The Last Witch |
| Illinois | Haikyu!! |
| Indiana | Yuri!!! On ICE |
| Iowa | Mobile Suit Gundam IBO |
| Kansas | Yuri!!! On ICE |
| Kentucky | Yuri!!! On ICE |
| Louisiana | Drifters |
| Maine | Drifters |
| Maryland | Keijo!!!!!!!! |
| Massachusetts | Keijo!!!!!!!! |
| Michigan | Drifters |
| Minnesota | Keijo!!!!!!!! |
| Mississippi | Keijo!!!!!!!! |
| Missouri | Keijo!!!!!!!! |
| Montana | Izetta: The Last Witch |
| Nebraska | Izetta: The Last Witch |
| Nevada | Drifters |
| New Hampshire | Drifters |
| New Jersey | Drifters |
| New Mexico | Yuri!!! On ICE |
| New York | Keijo!!!!!!!! |
| North Carolina | Drifters |
| North Dakota | Mobile Suit Gundam IBO |
| Ohio | Yuri!!! On ICE |
| Oklahoma | Drifters |
| Oregon | Yuri!!! On ICE |
| Pennsylvania | Yuri!!! On ICE |
| Rhode Island | Drifters |
| South Carolina | Drifters |
| South Dakota | Izetta: The Last Witch |
| Tennessee | Drifters |
| Texas | Izetta: The Last Witch |
| Utah | Yuri!!! On ICE |
| Vermont | Izetta: The Last Witch |
| Virginia | Keijo!!!!!!!! |
| Washington | Drifters |
| West Virginia | Drifters |
| Wisconsin | Yuri!!! On ICE |
| Wyoming | Izetta: The Last Witch |