OP/insert songs are performed by anison girls unit AouP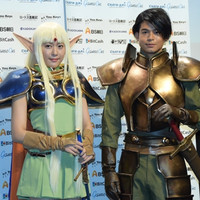 A press conference for the upcoming stage play adaptation of Ryo Mizuno's fantasy light novel series Record of Lodoss War was held in Tokyo Yestearday. 23-year-old Tetsuya Sugaya (Noboru Koike in Terra Formars: A New Hope) and Aika Ohta (girl idol group HKT48's Team KIV member) revealed their costumes as the protagonist Parn and main heroine Deedlit to the press for the first time. MAiDiGi TV has posted a video report below.
After introducing the message from Mizuno and other cast member, the two in their costumes appear at 2:35. How do you like them?
The stage play is based on the new edition of The Grey Witch arc, which was originally included in the
first volume of the novel series published in April 1988. Mizuno revised and released it as The New Edition
from Kadokawa Shoten's Kadokawa Sneaker Bunko imprint in October 2013. The series has printed over
10 million copies in Japan, and has been adapted into several anime series.
The stage play is written and directed by Sonoda Hideki, well known for his screenplay/series composition
works for Pocket Monster, Machine Robo Rescue, and Beyblade Burst. It is scheduled to be performed at
Kinokuniya Southern Theatre in Shinjuku, Tokyo, from January 6 to 14 in 2017. Advance sale of the tickets
will begin this Saturday, October 29.
Main Cast:
Parn: Tetsuya Sugaya (Noboru Koike in Terra Formars: A New Hope)
Deedlit: Aika Ohta (HKT48 member)
Woodchuck: Ire Shiozaki (Hikaru Amane in The Prince of Tennis Musical)
Etoh: Piko (Katanagatari ED song performer)
Slayn: Hiroki Sana (Kaoru Kaido in The Prince of Tennis Musical)
Ghim: Atsushi Fukazawa
Record of Lodoss War: The Grey Witch" New Edition cover
via: Mantan Web