Sale commemoration events will be held as planned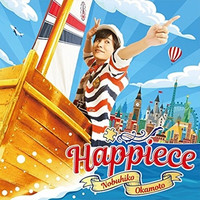 Japanese record company Lantis has started recalling voice actor Nobuhiko Okamoto's first full album "Happiece" released in Japan on October 26 due to a fault of its content. According to their announcement released yesterday, it was found out soon after the release that "Bokura no Catastrophe" in the album used the same music with another voice actor Kenichi Suzumura's 2014 song "Hitotsu."
The composer of "Bokura" is credited as Smile Company's Tatsuya Kurauchi, who is well known for his arrangement works for the Love Live! franchise, such as "SUNNY DAY SONG" and "Angelic_Angel" (Love Live!The School Idol Movie insert songs).
"Hitotsu" was originally made to perform in Suzumura's 2014 tour "Vessel," but has never been recorded for his singles or albums, so Lantis has not registered the song officially yet. During the
production process of "Happiece," a reuse of the music of "Hitotsu" for "Bokura no Catastrophe" was
suggested, then it was recorded and released (probably) without approval from Suzumura or his staff.
The 10-song album ranked 9th in Oricon's daily album sales chart on its release day and 7th on the next
day, but all of the disc were decided to be recalled immediately and no longer available at stores. A new
version of the album will be released on January 21, 2017. Purchasers of the initial version will be able to
exchange it with the new version for free then. Sale commemoration events for the album in Osaka and
Aichi (both on November 5), and Tokyo (November 6) will be held as planned.
15-second CM for "Happiece"
Limited edition CD jacket
Regular Edition
Source: Lantis