Non-All Stars film will be released in Japan on March 18, 2017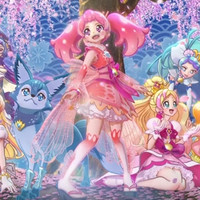 On the theatrical release day of the franchise's newest film Eiga Mahou Tsukai PreCure! Kiseki no Henshin! Cure Mofurun! (Maho Girls PreCure! The Movie: Miracle Transformation! Cure Mofurun!) in Japan, a teaser site for the next PreCure film titled PreCure Dream Stars! opens with a 30-second teaser introducing a new PreCure? girl. It has not been announced yet whether the girl is a character from the next TV series to premiere in February 2017 or a guest character just for the film.
The teaser also confirms the film will not be an "All Stars" film that has all of the PreCure girls from the past series. As of now, the total number of the main PreCure girls is 45, so it has already become impossible to feature all of them in a 70-minute film. The teaser and the main visual on the site features only four from the previous Go Princess PreCure! (Flora, Mermaid, Twinkle, Scarlet), three from the ongoing Mahou Tsukai PreCure!/maho Girls PreCure! (Miracle, Magical, Felice), and the girl with an unknown animal.
The site explains the story of the film as: "Beyond the door of light, there is a mysterious shining world,
then (we) encounter one girl. What will happen to the PreCure in the world covered with cherry blossoms
in full bloom? In the coming spring, a brand new story, not an All Stars, will begin!"
PreCure Dream Stars! is set to open in Japan on March 18, 2017. Advance tickets with a special toy will
go on sale on January 28.
Teaser
Main visual
Source: "PreCure Dream Stars!" official website
© Movie PreCure Dream Stars! production Committee