3rd single "Starry Wish" hits stores November 9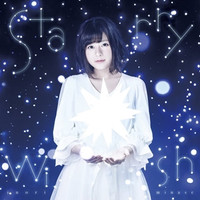 King Records' official YouTube channel today posted a four-minute full music video for 20-year-old voice actress Inori Minase's upcoming 3rd solo single "Starry Wish." The song is now featured as the ED theme for the TV anime series Vivid Strike!, in which she voices one of the two protagonists, Fuuka Reventon. The anime's OP theme "Future Strike" is sung by 21-year-old Yui Ogura who voices another protagonist Rinne Berlinetta. The CD single of the ED song will be released on November 9.
"Starry Wish" full MV
Minase has posted photos from the shooting on her official Twitter
メロフラ聴いてくれてありがとうっ!
そして!MVも公開です!
じっくりじっくり見てください…(*∂v∂)♡

MVオフショットもどうぞ…(*∂v∂)#melody_flag pic.twitter.com/wH2TCnrY2j

— 水瀬いのりinfo (@inoriminase) October 30, 2016
CD jacket
"Vivid Strike!" CM featuring the ED song
Source: King Records
© 2016 KING RECORD CO., LTD.