Trigger series return with TV anime this winter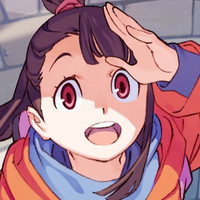 The witches of Luna Nova Magical Academy are doing a bit of Samhain celebration this weekend while preparing for the winter Little Witch Acadamia TV anime. October 30 and 31, participating Animate character goods stores in Japan will be offering customer packets of candy featuring the series' cast and QR code that with access to a site where the witch divine's the visitor's future. Along with this, character designs have been published.
Animator Shuhei Handa also posted some Halloween art...
Trick or Treat pic.twitter.com/UdXeGx1Slp

— シン・宇宙パトロール半田修平㌠ (@ebisu1984) October 29, 2016
Atsuko "Akko" Kagari - Megumi Han
A Japanese wannabe witch, inspired by Shiny Chariot's magic show learn magic. She's not very talented, by her dream motivates her to work hard. Her most prized posession is a set to Shiny Chariot trading cards.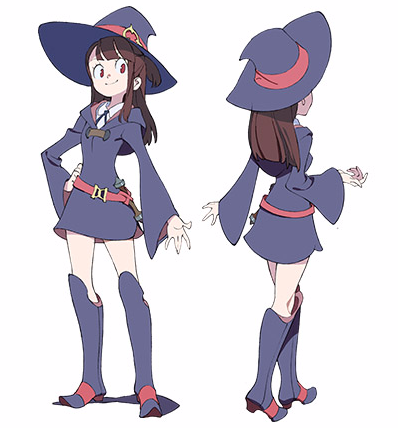 Lotte Yanson - Fumiko Orikasa
Akko's roommate from Filand, with a gentle, sincre personality. Often sings a folk song about a good witch who was the spirit of Northern Europe. Also, an otaku of tragic vampire romance novel "Night Fall."
Sucy Manbavaran - Michiyo Murase
Akko's roomate from Southeast Asia. Has a mania for poisons derrived from animals, plants and especially mushrooms. Has a bit of a cynical personality an works at her own pace.
Diana Cavendish - Yoko Hikasa
Daughter of a prestigious witch family from the UK and a top student. Has a strong personality and sense of justice, but is also often at odds with Akko.
Amanda O'Neill - Arisa Shida
An American-born yankee/trouble maker with a passion for trespassing and stealing dangerous treasures. Besides mischief making, likes dancing and parties.
Constanze Braunschbank Albrechtsberger - Rie Murakawa A German who whose interest in technology prompts her to bring in school rule violating equipment. Being of a like mind, teams up with Sucy for dubious experiments.
Jasminka Antonenko - Reina Ueda
A perpetually hungry girl who loves to snack on sweats in peace. Often aggravates teachers by eating candy in class.
Professor Ursula -Noriko Hidaka
Noriko Hidakaastronomy teacher who tries to foster Akko's dream and watch over her from the shadows. There's a rumor she was once Shiny Chariot
Shiny Chariot - Noriko Hidaka
A globe-trotting magic performer who helped usher in a heyday of magic, then retired
■ Staff
Original: TRIGGER / Yoshinari
Director, Original Character Design: Yoshinari
Series configuration: Mitsuru Shimada
Main Character: Shuhei Handa
Art Director: Masanobu Nomura
Color design: Yukiko Kakita
Director of Photography: Daisuke Okumura, Naoki Yorozu
Key animator: Takafumi Hori
Design: Yoshikaki Yusuke
Editor: Kentaro Tsubone
Music: Michiru Oshima
Sound Director: Jun Watanabe
Sound Effects: Kiyotaka Kawada
Production: TRIGGER
Candy packets
明日から「リトルウィッチアカデミア」ハロウィンキャンペーン開催!全国のアニメイトで買い物をするとオリジナルキャンディーがもらえます! さらに包装紙のQRコードにアクセスするとキャラクター占いを楽しめますので是非チェックしてみて下さい!https://t.co/yDCtIp8TUf pic.twitter.com/CdPndopcNX

— リトルウィッチアカデミア (@LWA_jp) October 29, 2016
本日はハロウィン!全国のアニメイトで「リトルウィッチアカデミア」ハロウィンキャンペーン開催中です!アニメイトで買い物をするとオリジナルキャンディーがもらえます。さらに包装紙のQRコードにアクセスするとキャラクター占いを楽しめますので是非足を運んでみて下さい! pic.twitter.com/GWtVyaLH0b

— リトルウィッチアカデミア (@LWA_jp) October 30, 2016
------
Scott Green is editor and reporter for anime and manga at geek entertainment site Ain't It Cool News. Follow him on Twitter at @aicnanime.