33rd single "Sora no Kanata de" hits stores November 16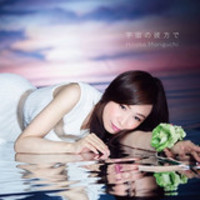 King Records today posted a five-minute full music video for 48-year-old singer Hiroko Moriguchi's upcoming 33rd single song "Sora no Kanata de" (Beyond The Space), which is featured as the theme song for the fourth chapter of the Mobile Suit Gundam: The Origin anime series, "Unmei no Zenya (Fateful Eve)."
Moriguchi made her professional singer debut in 1985 when she was 17, releasing her 1st single "Mizu no Hoshi e Ai wo Komete" (To a Watery Planet with Love), the 2nd OP theme song for the Mobile Suit Zeta Gundam TV anime. Later her 9th single song "Eternal Wind ~Hohoemi wa Hikaru Kaze no Naka" (Smile is in the Shining Wind) released in 1991 was used as the theme song for the Mobile Suit Gundam F91 feature film. Her third Gundam theme song's CD single will be released on November 16.
The final part of the "Char and Sayla" arc will be screened at 15 selected theaters across Japan for a
limited time of two weeks from November 19.
"Sora no Kanata de" full MV
CD jacket photo
Anime PV featuring the song
"Mobile Suit Gundam The Origin IV" main visual
Source: Hiroko Moriguchi official website
© Sotsu/Sunrise