Latest live-action film dominates Japan's weekend box office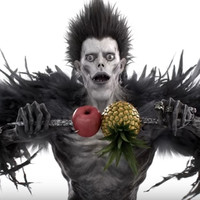 The official YouTube channel of the Death Note Light up the NEW world live-action film has posted a one-minute music video featuring Ryuk performing Piko-Taro's internationally hit song "PPAP (Pen-Pineapple-Apple-Pen)." The official collaboration video was produced to celebrate the film's box office success. Apple featured in the song is known as the shinigami Ryuk's favorite food.
The highly anticipated sequel to the two live-action films in 2006 was released on 341 screens across Japan on October 29, then earned 458,645,800 yen on 342,309 admissions in its first weekend. It became the top-grossing the film of the weekend, beating the nine-time weekend box office winner in Japan, Makoto Shinkai's record-breaking anime film Kimi no Na wa./your name.
"PPAP (Pen-Pineapple-Apple-Pen)" Ryuk version
Video message from Piko-Taro
"PPAP (Pen-Pineapple-Apple-Pen)" original version
Source: "Death Note Light up the NEW world" official website