Four voice actresses will join the memorial event on November 12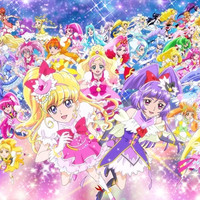 Toei Animation announced yesterday that the film series of its long running franchise PreCure had attracted a total of 15 million moviegoers in Japan by November 1, the fourth day of the release of its latest feature Eiga Mahou Tsukai PreCure! Kiseki no Henshin! Cure Mofurun! (Maho Girls PreCure! The Movie: Miracle Transformation! Cure Mofurun!).
The first film featuring the characters from the second TV series Futari wa PreCure Max Heart was released in Japan in April 2005. After the release of the first All Stars film PreCure All Stars DX: Everyone's Friends☆the Collection of Miracles! in March 2009, Toei has kept releasing an All Stars film every March and a film only featuring the ongoing series in fall. Along with Kamen Rider and Super Sentai, PreCure has been a very important regular money-making franchise for Toei.
It was also confirmed the 21st film's opening weekend gross was 26% up from the last year's Go!
Princess PreCure the Movie: Go! Go!! Splendid Triple Feature!!!, that collected around 560 million yen
from its total theatrical run. In commemoration of both records, the four main voice actresses from
Maho Girls PreCure, Rie Takahashi (Mirai Asahina), Yui Horie (Riko Izayoi), Saori Hayami (Ha-chan),
and Ayaka Saito (Mofurun), will join a special stage event after the 18:30 screening on November 12
at the Shinjuku Wald 9 theater in Tokyo.
"Eiga Mahou Tsukai PreCure! Kiseki no Henshin! Cure Mofurun!" full trailer
Flyer visual
Source: "Eiga Mahou Tsukai PreCure!" official website
© 2016 Movie Mahou Tsukai PreCure! Production Committee