Directed by Katsuhiro Motohira (Bayside Shakedown, Psycho-Pass)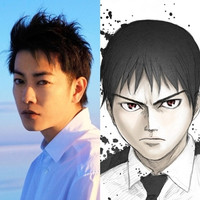 27-year-old Japanese actor Takeru Sato is confirmed to play the protagonist Kei Nagai in the upcoming live-action film adaptation of Gamon Sakurai's Ajin: demi-Human sci-fi action manga series. While Kei was a high school student in the beginning of the manga story and its anime adaptations produced by Polygon Pictures, the character will be portrayed as a medical intern in the live-action film, probably taking Sato's real age into consideration.
Sato, who made his leading role debut in Kamen Rider Den-O in 2007, has joined many live-action TV drama and film adaptations based in popular Japanese manga series, such as Masanori Morita's Rookies (2008-2009), Harold Sakuishi's BECK (2010), Nobuhiro Watsuki's Rurouni Kenshin (2012-2014), and Tsugumi Ohba and Takeshi Obata's Bakuman. (2015).
51-year-old Katsuyuki Motohiro, who helmed the mega-hit police comedy drama franchise Odoru
Daisousasen/Bayside Shakedown (1997-2012) and the Psycho-Pass anime series (2012-2015), is
attached to direct. This is the first time for Sato to work with Motohiro. And the stunt team that
previously worked for the Rurouni Kenshin films will also join the filming to recreate the superhuman
actions of IBM (Invisible Black Matter).
The live-action film Ajin: Demi-Human is set to be released in Japan next year.
Takeru Sato/Kei Nagai manga visual
[映画ニュース] 佐藤健「亜人」実写映画化に主演!本広克行監督と初タッグ https://t.co/pnCo0iIiXf #映画 #eiga pic.twitter.com/XiTeHSS8gQ

— 映画.com (@eigacom) 2016年11月3日
Source: Eiga.com