220mm-tall item will be shipped in April 2017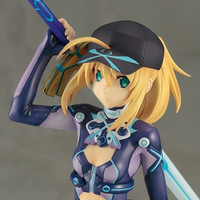 Japanese figure company Kotobukiya today revealed details on its new 1/7 scale character figure of Mysterious Heroine X, aka Assassin, from Type-Moon's popular PRG for smartphone, Fate/Grand Order. Its prototype is created by ko_nen (modeloft), who previously worked on the Ougi Oshino (Monogatari series) figure released in December 2015 for the company. The price for the 220mm-tall pre-painted figure is 14,904 yen (about 147 Us dollars), and its scheduled shipping date is April 2017.
Original visual for the game
Purchasers at the official Kotobukiya stores wil lalso recieve a smiling face part.
Source: Kotobukiya
©TYPE-MOON / FGO PROJECT