Shinkai Makoto's youth sci-fi film has earned 17 billion yen in Japan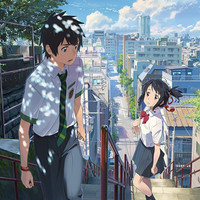 Shizuoka Prefectural Police announced yesterday that they had arrested a 54-year-old unemployed man in Fujisawa-city, Kanagawa Prefecture, on suspicion of copyright infringement (infringement of public transmission rights), and sent the case to the Shizuoka District Public Prosecutors Office.
According to the police, the suspect is accused of using the file-sharing software Share to upload Makoto Shinkai's mega hit anime film Kimi no Na wa./your name. and two song files of popular artists onto the internet without the permission of the copyright holders' permission from May to September of this year. The video file of the film included English and Chinese subtitles. Since the film is still running at Japanese theaters and its DVD or Blu-ray have not been released legitimately yet, the police think he got the pirated video file made by someone else by using the software, then again made it downlodable to the general public.
As reported, the production committee of the film opened a new official Twitter account dedicated to the
copyright protection under the name "Movie Kimi no Na wa Production Committee Copyright Manager" in
September, and has been posting their messages to ask people not to watch the film by illegitimate means.
Despite the open warning, the suspect couldn't understand the criminality of his act. This is the first arrest
case for illegal uploading of the film in Japan.
No matter whether it is for profit or non-profit purposes, posting copyrighted materials (anime, films, TV
programs, music, pages from the magazines before and after published) to the internet without copyright
holder's permission is illegal in Japan. The criminal act can result in a 10-year jail sentence or a fine of 10
million yen (about US$98,500) in the worst case.
映画「君の名は。」など不正公開した疑い、男を書類送検 https://t.co/CAudVgEmlb

— 朝日新聞(asahi shimbun) (@asahi) November 4, 2016
Source: Asahi Shimbun
---
Related:
Kyoto Police Arrested Two Chinese Men for Illegally Uploading "Arslan," "Prisma Illya" Anime
70-year-old Man Stealing Shonen Jump before Release Found Guilty, 10 Months in Prison
Japanese Police Arrested 44 People for Illegal Uploading in Three Days
30-year-old Unemployed Man Arrested for Uploading "Kingdom" Manga
38-year-old Man Arrested for Posting "GATE" Episodes onto Video Sharing Site
Another 2 Chinese Arrested for Uploading "The Seven Deadly Sins" Manga
4 Men Arrested for Posting "One Piece" Latest Chapter Before Release
Police Arrested Man Who Posted Robot Anime Videos, Theme Songs
50-Year-Old Unemployed Man Arrested for Uploading Manga via PerfectDark
High School Teacher Arrested for Uploading "Kuroko's Basketball" Manga
Unemployed Man Arrested for Uploading "Liar Game" Manga
40 People Arrested for Illegal Uploading of Anime, TV Drama in 3 Days
Government Official Arrested for Posting "Gundam Unicorn" Episodes onto Video Sharing Site FC2
48-year-old Man Arrested for Uploading "Yo-Kai Watch" Anime Episode