"Dragon Ball Super" takes a piece out of "One Piece".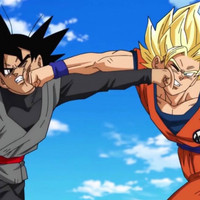 The latest ratings data in Japan shows that Dragon Ball Super has surpassed One Piece in the rating shares. Dragon Ball Super has moved up to the 6th place spot and One Piece moved down to 7th place.
The creator of Dragon Ball Super wants to take the series to even greater heights, though. He plans to overtake Doraemon, Crayon Shin-Chan, and Detective Conan, which hold the 3rd, 4th, and 5th slots respectively.
Dragon Ball Super continues to gain momentum. With simulcast subs available in the U.S. via Crunchyroll, as well as talks of a Funimation produced dub in the future, the latest chapter of the Dragon Ball saga seems like it'll only be more popular as time goes on.
[via iTechPost]
-------
Fueled by horror, rainbow-sugar-pixel-rushes, and video games, Brittany is a freelancer who thrives on surrealism and ultraviolence. Follow her on Twitter @MolotovCupcake and check out her portfolio for more.