Please come to the west!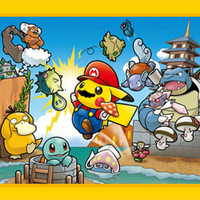 The Pokémon Company has released a new merchandise line in Japan. The Mario Pikachu line is a ridiculously adorable crossover of the Pokémon and Super Mario universes. There's a catch though. For now it's exclusive to just the Kyoto Pokémon Center.
Available in the Kyoto Pokémon Center are Mario Pikachu themed card games, card game cases, a 3DS LL cover, Mario Pikachu Mario and Luigi plushies, t-shirts, notebooks, and more. The line released on October 29, and as of right now there's no announcements for a further Japanese or Western release.
If you want an awesome item from this very limited run (so far) crossover, you better head over to Amazon Japan or Yahoo Japan and get it before the prices skyrocket.
[via The Pokémon Company Japan]
-------
Fueled by horror, rainbow-sugar-pixel-rushes, and video games, Brittany is a freelancer who thrives on surrealism and ultraviolence. Follow her on Twitter @MolotovCupcake and check out her portfolio for more.