Cybird's "Ikemen" smartphone game series has attracted 15 million registered users in Japan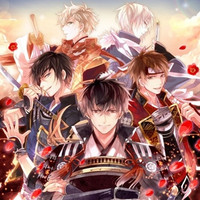 Tokyo-based smartphone game company Cybird announced at the Animate Girls Festa 2016 event on Saturday that Ikemen Sengoku: Toki wo Kakeru Koi (Love That Leapt Through Time), one of its popular "Ikemen" (Handsome Men) otome game series for iOS and Android, will get an anime adaptation sometime in 2017.
The series has had eight titles so far, such as Ikemen Bakumatsu: Unmei no Koi (Fateful Love), Ikemen Oukyu: Mayonaka no Cinderella (Ikemen Royal Palace: Cinderella in Midnight), and the most recent Ikemen Kakumei: Alice to Koi no Mahou (Ikemen Revolution: Alice and Love Magic), and has attracted 15 million registered useres in Japan.
Ikemen Sengoku was launched in June 2015. The story centers on a female protagonist who accidentally time travels back to the sengoku period of Japan in the end of the 16th century during her trip
in Kyoto. She encounters Nobunaga Oda (CV: Tomokazu Sugita), one of the most powerful daimyo/
warlords, at the Honno-ji incident on 1582. Nabunaga likes her on sight, and other 11 famous daimyos
who appear in front of her, including Hideyoshi Toyotomi (Kousuke Toriumi), Yukimura Sanada (Yoshimasa
Hosoya), Masamune Date (Kazuki Kato), and Ieyasu Tokugawa (Toshiki Masuda), are all ikemen/handsome
guys. With whom will she fall in love?
【アニメ化決定!】イケメン戦国のアニメ化が決定しました!2017年公開予定★11人の武将達がアニメになって登場します!随時、追加情報を公開していくのでお楽しみに(o´艸`)♪ #イケメン戦国 https://t.co/tv9MzTgMDQ pic.twitter.com/ciICtmSTDC

— 【公式】イケメン戦国 (@Cyikemensengoku) 2016年11月5日
Main visual
Official PV
Maiko Fujita "Only One" x "Ikemen Sengoku" collaboration one anniversary MV
Manga adaptation illustrated by Mika Kajiyama will start its serialization on the February 2017 issue of
Akita Shoten's Monthly Princess to be released on January 6, 2017
【コミカライズ連載発表!】AGF2016にてイケメン戦国のコミカライズ化を発表いたしました!秋田書店「月刊プリンセス」2月号(1/6発売)から、梶山ミカ先生によるコミカライズ連載を開始!皆様連載開始までお楽しみに☆ #イケメン戦国 https://t.co/tv9MzTgMDQ

— 【公式】イケメン戦国 (@Cyikemensengoku) 2016年11月6日
Source: "Ikemen Sengoku" official website
©2015 CYBIRD