TV anime "Trickster" OP song hits stores November 23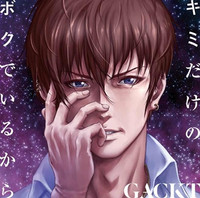 The official YouTube channel of 43-year-old singer/actor GACKT has posted a 30-second preview of the music video for his upcoming 47th single "Kimi dake no Boku de Iru Kara" (I'll be the one only for you), the OP song for the ongoing TV anime Trickster in which he has voiced Kaijin Nijumensou (The Fiend with Twenty Faces), the main villain in the story. The song was already included in his 8th album "LAST MOON" released on April 27, 2016, and will be released as a CD single on November 23. The anime music video featuring him as an anime character is produced by the production team of TRICKSTER.
The TV anime Trickster is now available to viewers in the following territories: USA, Canada, United Kingdom, Ireland, Australia, New Zealand, South Africa, Iceland, Sweden, Norway, Netherlands.
"Kimi dake no Boku de Iru Kara" preview
CD single jacket illustration
CM for the DVD/Blu-ray featuring the song
Source: GACKT official website
(c)Jordan Morisugi/TRICKSTER Production Committee