"Sword Art Online Alternative: Clover's Regret" Cover Art Also Previewed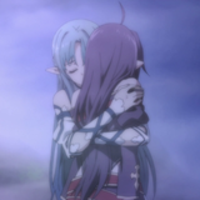 A host of Sword Art Online plans are building up for early next year around the February 18th release of the Ordinal Scale movie. Today, details were filled in for a SAO II Song Collection, with music from stories between Phantom Bullet and Mother's Rosario. New songs for the March 22nd release include "Sleepless Legend" from Yuuki (Aoi Yūki) and Sleeping Knights Siune (Yu Shimamura), Jun (Daiki Yamashita), Teechi (Kobushi Nobuyuki), and Nori (Tano Asami) and "Letter To the Sky" from Asuna (Haruka Tomatsu and Yuuki, and the Extra Edition bonus "Heart Sweet Heart" by Yui (Kanae Ito).
Tracks include
01. "SOLITARY BULLET" Sinon (CV: Miyuki Sawashiro )
02. "BLAZING BULLET" Kirito (CV: Yoshitsugu Matsuoka) & Sinon (CV: Miyuki Sawashiro )
03. "MAD BULLET" "S " Death Gun (CV: Soichiro Hoshi) & Kyoji Shinkawa (CV: Natsuki Hanae)
04. "RELIEF BULLET" Shino Asada CV: Miyuki Sawashiro)
05. "Memorial Calibur" Leafa (CV: Ayana Taketatsu) & Yui ( CV: Kanae Ito) Silica (CV: Rina Hidaka) & Lisbeth (CV: Ayahi Takagaki )
06. "Liberty Rosario" Yuuki (CV: Aoi Yuki)
07. "Tomorrow's Rosario" Asuna (CV: Haruka Tomatsu )
08. "Sleepless Legend" - new song by Sleeping Knights
09. "Sora e to Ateta Tegami/Letter To the Sky" - new song by Yuuki and Asuna
10. "Heart Sweet Heart" Yui (CV: Kana Ito Megumi) - Extra Edition bonus
11. "IGNITE" Eir Aoi
12. "Startear" Luna Haruna
13. "courage" Haruka Tomatsu
14. "No More Time Machine" LiSA
15. "Separeito Ways" Haruka Tomatsu
16." "Shirushi" LiSA
17." Cynthia no Hikari "Eir Aoi
18." Yoru no Niji wo Koete"Luna Haruna
Jacket art was also previewed today
Front
Back
There's also a look at the cover for the new collection of Sword Art Online Alternative: Clover's Regret, by Watase Sōichirō about characters in Asuka Empire, a VRMMORPG not quite as popular as ALfheim Online.
【本日11/10発売】新作登場! 『ソードアート・オンライン オルタナティブ クローバーズ・リグレット』 《SAO》の秘められたエピソードを、ファンタジーの旗手・渡瀬草一郎が再創造! https://t.co/K2BUKJeppB pic.twitter.com/ZzWzN99tdj

— 電撃文庫 (@bunko_dengeki) November 9, 2016

------
Scott Green is editor and reporter for anime and manga at geek entertainment site Ain't It Cool News. Follow him on Twitter at @aicnanime.