KEN THE 390 (DREAM BOYS) serves as the sound producer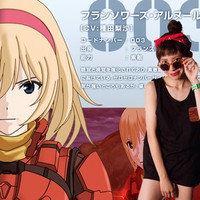 To promote the upcoming theatrical release of the three-part film in Japan, GALDir Media has started daily posting collaboration music videos for Cyborg 009 Call of Justice, performed by nine Japanese freestyle rappers since November 9. Currently four videos featuring 001, 002, 003, and 004 are available on the web.
The first part of Cyborg 009 Call of Justice will open on November 25, 2016, then the second and third will follow on December 2 and December 9, respectively. Each part will be screened for a limited time of two weeks.
【DOTAMA with 001 (Ivan Whisky)】-CYBORG009 CALL OF JUSTICE-
【Rude-α with 002 (Jet Link)】-CYBORG009 CALL OF JUSTICE-
【Rei©hi with 003 (Françoise Arnoul)】-CYBORG009 CALL OF JUSTICE-
【Jyou with 004 (Albert Heinrich)】-CALL OF JUSTICE-
---
Trailer
Poster visual
Source: ACI promotion press release
© "CYBORG 009" Production Committee