Gundam's acclaimed designer Kunio Okawara supports the project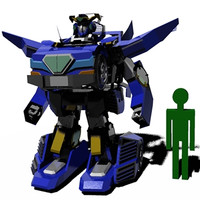 Multinational telecommunications corporation Softbank's group company Asratec, Osaka-based Sansei Technologies, and Tokyo-based BRAVE ROBOTICS have agreed to establish a new LLP (Limited Liability Partnership) to develop a human type transformable robot for riding, named "J-deite RIDE."
According to the press release, "J-deite RIDE" is a four-meter tall robot that can transform from its humanoid mode to vehicle mode, and vice versa. While it is capable of walking on two legs in its humanoid mode, a human can drive it as a car in its vehicle mode. It has been already developed as a part of BRAVE ROBOTIC and Asratec's "Project J-deite" since June 2015. In the project, BRAVE ROBOTIC is mainly in charge of the design and manufacture of its hardware, while Asratec works on the software for the robot's control system, called "V-Sido." The "J-deite RIDE" robot is targeted to be completed during 2017.
Meanwhile, Sansei Technologies is planning to open an amusement park featuring the mass-produced
version of the "J-deite RIDE" robot in future. A 1.5-meter prototype of the robot will be displayed at
IAAPA Attractions Expo 2016, a trade show for the amusements and attractions industry to be held in
Orlando, USA, starting on November 14.
In addition, it is announced that 68-year-old acclaimed Japanese anime mechanic designer Kunio
Okawara has joined the project as a support mecha designer. He is best known for his mobile suit
designs for Sunrise's long-running Gundam series.
"J-deite RIDE" humanoid mode
Vehicle mode
Sketch 1 by Kunio Okawara
Sketch 2 by Kunio Okawara
---
Prototype's demonstration at the International Robot Exhibition in December 2015
(courtesy of Kanto Robot Practice)
Vehicle mode to humanoid mode
Humanoid mode to vehicle mode
Source: Asratec press release