Presentato da Star Scarlett Johansson a un evento a Tokyo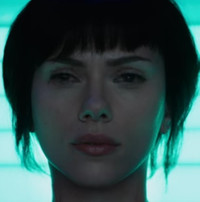 È disponibile il primo trailer da due minuti del film dal vivo Ghost in the Shell, ispirato al manga di Masamune Shirow.
Il film è diretto da Rupert Sanders (Biancaneve e il Cacciatore) e interpretato da Scarlett Johansson e Takeshi Kitano. L'attrice in persona presenta il trailer distribuito da Paramount.
Trailer ufficiale
Trailer ufficiale italiano
Il film uscirà negli Stati Uniti il 31 marzo 2017.
Paramount descrive così il film:

Basato sull'omonima serie fantascientifica amata a livello internazionale, "GHOST IN THE SHELL" narra le vicende del Maggiore, un cyborg unico nel suo genere, e della squadra speciale da lei comandata: la Sezione 9. Devota a fermare i più pericolosi criminali, la Sezione 9 deve affrontare un nemico il cui scopo è arrestare lo sviluppo delle tecnologie cibernetiche della Hanka Robotic.
Fonte: Paramount.