"I have been overestimated. I can't be like Hayao Miyazaki."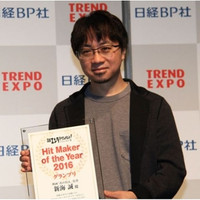 43-year-old anime director Makoto Shinkai received the Grand Prix award of "Hit Maker of the Year 2016" chosen by Nikkei BP Company's trend information magazine Nikkei Entertainment! for the huge success of his latest film Kimi no Na wa./your name. At the commendation ceremony held in Tokyo on November 12, he talked about the possible schedule for his next film.
Kimi no Na wa. has earned a massive 18 billion yen in Japan and has become the fourth successful Japanese film in history. He said, "I never expected the film would do so well in Japan. I am impressed by the fact over 10 million people have gone to theaters."
"I am still spending days for the promotional activities (for Kimi no Na wa.), though it is almost the time that I should start working for a next film normally," he revealed at the talk show, "Nothing has been decided yet, but in order to release my next film in three years, I have to write the proposal and screenplay
by the end of this year, so I am in a haste. For the next one or two months, I will strain my ears and
open my eyes wide to understand what the audience want."
Because of the film's huge commercial success, Japanese media have started considering Shinkai as
the successor to internationally acclaimed anime director/animator Hayao Miyazaki. He answered to a
question about the compliment, "Putting me on the same level with Hayao Miyazaki is overestimating.
I can't be like him. He has his own way of directing only he can. I felt so again when I watched
Kurenai no Buta/Porco Rosso last night."
"I need to keep making films, because I have chosen animation director as my job. I have no choice
but to aim for a different thing. Miyazaki has Joe Hisaishi as the composer for his films. Like collaboration
works with RADWIMPS, I have to make films based on upbeat music. I don't think it is possible to
catch up with a great person like him if I go the same direction."
Video from the ceremony (courtesy of MAiDiGi TV)
Source: Mantan Web