Kadokawa Horror Bunko's popular series has printed over 950,000 copies in Japan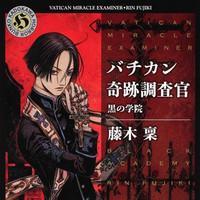 Kadokawa announced that an anime adaptation of Rin Fujiki's mystery novel series Vatican Kiseki Chosakan/Vatican Miracle Examiner is in the works in the latest December 2016 issue of Monthly Comic Gene magazine released today in Japan.
The first two books of the series were released from Kadokawa Shoten in 2007 and 2009, then it moved to Kadokawa's Horror Bunko imprint in 2010. So far 13 volumes, including the re-issues of the first two, have been released from the imprint and over 950,000 copies have been printed in Japan. Its manga adaptation illustrated by Anjue Hino has been serialized in Comic Gene since August of this year.
The series features 24-year-old Japanese-American protagonist Hiraga Joseph Kou, who is a genus scientist, and his partner 27-year-old Roberto Nicholas, an expert in reading ancient documents and
deciphering codes. They belong to Vatican City's secret organization "Seito no Za (The Seat of Saint)"
to investigate the miracles reported from all over the world. As the miracle examiners, the two research
the miracle cases and expose a plot behind them.
Kadokawa Horror Novel edition 1st and 2nd volume covers
via: Mantan Web