The dueling gets real starting today at 4pm PST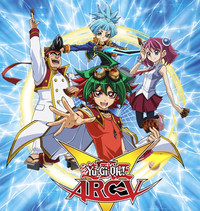 Get ready to Action Duel! Starting today, Crunchyroll begins streaming Yu-Gi-Oh! ARC-V, the fourth main entry in the utterly unstoppable Yu-Gi-Oh! franchise!
Episodes 1-5 of Yu-Gi-Oh! ARC-V go live today, 11/15 at 4pm PST. Episodes 16-30 join the catalog next Tuesday on 11/22 at 4pm PST, with episodes 31-40 available on 11/29, also at 4pm PST. Then, starting in December, look for 5 episodes onboarded ever Tuesday at 2pm PST.
Yu-Gi-Oh! ARC-V will be available to Crunchyroll members worldwide excluding Asia.
About Yu-Gi-Oh! ARC-V
Swing into action with Yu-Gi-Oh! ARC-V!
Yuya Sakaki's dream is to follow in his father's footsteps and become the greatest "duel-tainer" in history – and he just might pull it off when he suddenly discovers Pendulum Summoning, a never-before-seen technique that lets him summon many monsters at once! But when countless rivals emerge to steal his spotlight, Yuya needs to gear up his game because dueling has evolved into a non-stop world of action!
In the all-new Action Duels, monsters literally come to life with advancements in holographic technology! Duelists no longer stand by and let their monsters battle for them on the playing field - they now ride their monsters as they race through real locations to take down their opponents with their Action Cards! From exotic castles to dense jungles, Yuya and his friends better prepare for any possibility because there's no telling where the next battle will be!
Yu-Gi-Oh! ARC-V: Where dueling gets REAL!
----
Patrick Macias is editor in chief of Crunchyroll News & Otaku USA magazine.
He is also the writer of HYPERSONIC music club, Paranoia Girls, & PARK Harajuku: Crisis Team!