12-song album sold 56,000 units in its first week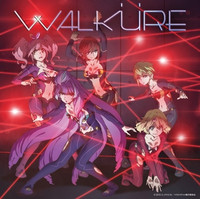 Following their first album "Walküre Attack!" released in July, The Recording Industry Association of Japan (RIAJ) certificated "Walküre Trap!," the second album of the five-member girl idol unit Walküre from the Macross Delta TV anime series, as a "Gold Disc" album. The title is given to music CDs sold 100,000 copies in Japan.
The 12-song album was released on September 28 and sold a very good 56,000 units in its first week, ranking third in the Oricon weekly album chart. The disc contains the songs used in the second cour of the TV anime, including the second OP song "Zettai Reido Θ Novatick" and second ED song "Hametsu no Junjo," which were also released as the unit's second single on August 10. The single CD sold 25,000 units in its first week and ranked sixth in the weekly single chart.
The unit Walküre is scheduled to hold their second concert titled "Walküre ga Tomaranai" (Can't Stop
Walküre) at Yokohama Arena (capacity: 17,000) in Kanagawa Prefecture on January 28 and 29, 2017.
It was originally planned to be held for only one day on January 28, but thanks to the overwhelming
sales of the advance tickets, the second day has been added.
2nd album "Walküre Trap!" CD jacket illustration
2nd single "Zettai Reido Θ Novatick/Hametsu no Junjo"
Walküre artist photo
Ad for the additional concert on January 29
Source: The Recording Industry Association of Japan
(C) 2016 BigWest/Macross Delta Production Committee