Male idol group-featured film ran at Japanese theaters for 238 days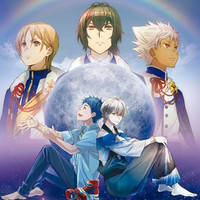 The official website for the KING OF PRISM anime film series reported yesterday that its first feature film KING OF PRISM by Pretty Rhythm has been running at theaters in Korea for 100 days since its release on August 11, attracting over 90,000 moviegoers. It is expected to cross the 100,000 mark by the end of this year.
The spin-off film to the Pretty Rhythm: Rainbow Live TV anime has already become the longest running Japanese animation film in Korea, breaking the previous record of 14 weeks marked by Love Live! The School Idol Movie! last year.
#킹프리 15주차 상영 결정!
국내 개봉 일본 애니메이션 중 최장기 상영!

너희들과 함께 한 기억이 기록으로 남게 되었어
고맙단 말 대신 사랑한다 말할래#코이시타 pic.twitter.com/psm5lZ2Tmt

— 킹 오브 프리즘 / 킹프리 (@anidong3282) November 14, 2016
Advance screening event in Korea on August 4 (via: Animate Times)
---
The film focusing on the three-member male idol unit Over The Rainbow released in Japan on January 9
of this year and ran at theaters for 238 days. It reportedly earned over 800 million yen in the eight months.
The second feature film KING OF PRISM -PRIDE the HERO- is already set for a release in June 2017.
"KING OF PRISM by Pretty Rhythm" trailer
Main Visual
"KING OF PRISM -PRIDE the HERO-" trailer
Source: "KING OF PRISM" official site via: Mantan Web
© T-ARTS/Sophia/King of Prism Production Committee