Support "Garo" editor Chikao Shiratori through GoGetFunding campaign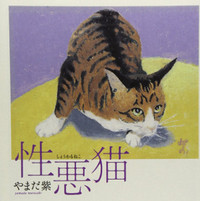 Manga owes a considerable part of its vibrancy to its alternative and avant-garde elements, and a considerable part of that movement was the magazine Garo. Over its 1964-2002 run, Garo featured works from Sanpei Shirato's leftist political ninja epic Kamui to the rough heta-uma style of King Terry to ero guro nansensu of Shintaro Kago and Usamaru Furuya. Such was its sway that "God Manga" Osamu Tezuka launched 1967-72's COM in response to stay on the cutting edge of the medium.
Garo editor Chikao Shiratori would then bring these works to English readers in publications such as 2000's Secret Comics Japan: Underground Comics Now. Shiratori is now fighting cancer and a GoGetFunding is looking to help out.
The campaign explains
This crowdfunding campaign seeks to assist a person who helped Japanese manga become an globally recognized art form and who helped publish the works of legendary creators including Sanpei Shirato, Shigeru Mizuki, Ryoichi Ikegami, Yoshikazu Ebisu, Yoshihaaru Tsuge, Suehiro Maruo, Jun Miura, Usamaru Furuya, and many others.
Chikao Shiratori is the former vice editor in chief of the Manga magazine Garo, a former professor at Japan Journalist College, a part-time lecturer at Kyoto Seika University and the partner of Murasaki Yamada, a manga creator who started her career at Garo magazine.
This project's aims to support Shiratori's work and his ongoing battle with leukemia and cancer.
* * * * *
Do you love Japanese manga and anime?
Manga and anime have incorporated Japanese ukiyoe traditions from the past, Western art techniques, as well as modern influences such as Disney animation.
Even with all of these influences, geniuses such as Osamu Tezuka and Shigeru Mizuki, as well as many others, created their own unique expressions and further elevated the medium of manga.
The storytelling techniques and unique dynamism of manga are tools that are now used all over the world. With so many different kinds of manga, covering a vast array of themes and genres, this is a medium that continues to entertain a global audience.
Just 50 years ago, the common societal standard was the belief that Japanese manga were predominately for children. In this old way of thinking, it was expected that readers "graduated" from manga when they reached adulthood.
Yet when artists who were educated under Osamu Tezuka (known as the "Tokiwaso Generation") became major players in the industry, they began making manga that adults could enjoy. Or, to put it more accurately, they began making manga for adults. These great works could show a person's subtle feelings, make grand statements about politics and life's triumphs and tragedies, all through the medium of manga.
In this new landscape, a magazine called Garo became the premier leading force for showcasing the full artistic range of manga
Garo was a monthly manga publication established in 1964 by editor Katsuichi Nagai as a vehicle for Sanpei Shirato's masterpiece The Legend of Kamui, which contained themes that were not suitable for children's Shonen manga magazines.
Garo, which serialized other works from major artists, also became the go-to magazine for a new generation who wanted to explore and experiment with themes and techniques that mainstream manga outlets would not touch.
New creators, inspired by The Legend of Kamui, started to knock on Garo's door, and eventually made their debut in Garo's pages. They include such names as Shigeru Mizuki (GeGeGe no Kitaro), Ryoichi Ikegami (Crying Freeman), Yoshikazu Ebisu (Salaryman From Hell), Yoshiharu Tsuge (Screw Style), Nekojiru (Nekojiru Udon), Takashi Nemoto (Monster Men Bureiko Lullaby), Kazuichi Hanawa (Doing Time), Seiichi Hayashi (Gold Pollen and Other Stories), Suehiro Maruo (Mr. Arashi's Amazing Freak Show), Usamaru Furuya (Short Cuts, Genkaku Picasso), and many more artists.
In the meantime, Osamu Tezuka – inspired by Garo – gathered together popular creators and started his own magazine, COM, where creators could also enjoy freedom of expression.
Garo and COM became major publications for talented new manga creators who wanted to expand the limits of graphic storytelling. This, in turn, helped shape the evolution of manga.
Garo's editor in chief was a man named Katsuichi Nagai. And the man that Katsuichi named his "last disciple" as Garo's vice editor in chief was Chikao Shiratori (born: Hokkaido, Japan, 1965).
Shiratori joined Garo in 1984, and until the magazine ceased publication in 1997, he sought to carry on the legacy of Katsuichi's original vision. In 1996, Shiratori sought to expand the world of Garo via the Internet, and, as such, continued to keep the spirit of the magazine alive through new media.
In the year 2000, Viz Communications Inc. published the book Secret Comics Japan. In his role as editor, and through commentary, Shiratori helped introduce Garo-style manga to North America. In his personal life, he became the husband of Murasaki Yamada, a highly esteemed female creator whose work had appeared in Garo and COM.
In 1997, he became a professor at Japan Journalist Collegewhere he taught young editorial hopefuls. But in 2005, Shiratori was diagnosed with acute lymphatic leukemia.
Although the progression of the cancer was slow, his immunity was greatly reduced. Nonetheless, with treatment, Shiratori was able to continue his editorial work as a freelancer. In 2006, his wife, Murasaki Yamada, landed a post as a professor at Kyoto Seika University in the manga department, and Shiratori was there to support her.
In 2007, they decided to move to Kyoto, and Shiratori himself taught at Kyoto Seika University as a part-time lecturer for a year.
However, in 2009, Murasaki Yamada suddenly passed away from a brain hemorrhage at the age of 60. To lose a wife whom he loved and who had supported him until the end further progressed Shiratori's disease. With the frequency of infections and blood transfers increasing, this was the beginning of an unbelievable battle against the ravages of cancer.
Through disease and sadness, Shiratori wanted to have Yamada's work available to future generations, and, as a result, he organized her late work and managed to republish four of her best pieces.
In 2013, still wanting to contribute in the field of manga editing, Shiratori went to the Japanese government's Employment Service Center to see if there was any editorial work available.
These activities eventually took a toll on Shiratori and his cancer progressed. Recuperating and taking care of himself at home, he also helped to start and guide the editorial process at the Osaka-based company Ookami Shobo. Even now, despite his troubles, Shiratori continues to work with independent publishers.
But in 2015, Merkel cell cancer -- a serious types of skin cancer -- was found on his left eyelid. During that year Shiratori had six general anesthesia surgeries, including removal of the left eye-lid and then reconstruction surgery. Radiation therapy began; however, the cancer returned and spread. In 2016, Shiratori's left eyeball was removed.
Currently, Chikao Shiratori is under chemotherapy and has been in the hospital for the past six months. He still wants to be an editor, and he has said, "Even with one eye, I can still edit… I can still read manga."
Unfortunately, through continued surgeries and cancer treatments, and due to the medical system available today, Shiratori is now in a dire financial crisis.
This project's aim is to support Shiratori's work and his battle with cancer.
For those who love Japanese manga and anime, and who would like to give back to an editor who has contributed so much to the expansion of Japanese manga; and for those who would like to help protect Murasaki Yamada's legacy, we would be grateful if you could help any way you can.
Thank you very much for your support and consideration.
Supporter, Izumi Evers / Daughter, Yuu Yamada
See the GoGetFunding page for an except from Chikao Shiratori's Yamada Murasaki Chronicle concerning the loss of his wife, a noted feminist essayist, manga artist, and poet, and the effort to republish her work, as well as a chronicle of his battle with cancer.
------
Scott Green is editor and reporter for anime and manga at geek entertainment site Ain't It Cool News. Follow him on Twitter at @aicnanime.