Shosuke Murakami-directed film hits Japanese theaters February 18, 2017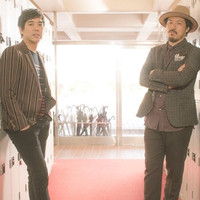 The official website for the upcoming live-action film adaptation of Matcha Hazuki's Isshukan Friends./One Week Friends manga today confirmed that popular Japanese duo Sukima Switch provides their 2nd single song released in March 2004, "Kanade," as its theme song. The song was also previously sung by voice actress Sora Amamiya, who played the main heroine Kaori Fujimiya, as the ED song for the TV anime aired in 2014.
The new version of "Kanade" features the original singing voice of Sukima Switch's vocalist Takuya Ohashi and newly recorded music by the band. In the original 2004 recording, drums and strings were digitally programmed. The song will be featured in the ending of the film.
The film directed by Shosuke Murakami (Densha Otoko, Akai Ito) will be released in Japan on February 18, 2017.
主題歌決定!
スキマスイッチ「奏(かなで)for 一週間フレンズ。」が主題歌に決定しました 本作のために「奏(かなで)」をリアレンジしていただきました!また、本作のロケ地となった高校でアーティスト写真を撮りおろし シーンとリンクしてますね #いちフレ pic.twitter.com/QIM0KHklwy

— 映画「一週間フレンズ。」公式 (@ichifure_movie) November 20, 2016
The two members of Sukima Switch visited Mimamidaira High in Tokyo where the film was shot.
主題歌決定②!
主題歌「奏(かなで)for 一週間フレンズ。」を歌うスキマスイッチさんが、特報にも登場している「友達になってください!」シーンを再現してくださいました!なんだか楽しそう  #いちフレ pic.twitter.com/3A3eDzbPl8

— 映画「一週間フレンズ。」公式 (@ichifure_movie) November 20, 2016
"Kanade" short MV sung by Sora Amamiya for the TV anime
Teaser trailer for the film
Teaser poster visual
Source: "One Week Friends" live-action film official website, Twitter
© Matcha Hazuki/Square Enix, Movie "One Week Friends" Production Committe