Directed by Mari Asato (Real Onogokko 3-5, Zero/Fatal Frame)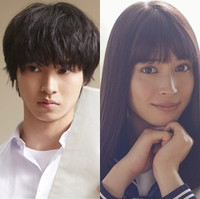 It is announced today that a live-action film adaptation of Honobu Yonezawa's mystery novel Hyouka is in the works for a 2017 release in Japan. 22-year-old Kento Yamazaki is confirmed to play the protagonist Houtarou Oreki, who is in the first year of Kamiyama High School in the novel, and 21-year-old Alice Hirose is cast as the main heroine Eru Chitanda. 40-year-old Mari Asato, who previously worked with Yamazaki in the 2012 film Real Onigokko 3 based on Yusuke Yamada's horror novel series, is attached to written and direct for Kadokawa Daiei Studio.
Yamazaki has recently been cast in so many live-action film adaptations of Japanese popular manga series, such as Ayuko Hatta's Wolf Girl and Black Prince (May 2016), Naoshi Arakawa's Your Lie in April (September 2016), Matcha Hazuki's One Week Friends (February 2017), Shuichi Asou's The Disastrous Life of Saiki K. (2017), and Hirohiko Araki's JoJo's Bizarre Adventure: Diamond Is Unbreakable (summer 2017) as Josuke Higashikata. Hirose also played the main heroine Aki Mikage
in the 2014 live-action film based on Hiromu Arakawa's Silver Spoon.
Hyouka is Yonezawa's debut novel published in October 2001 and the first volume of his Koten-bu/Classic
Literature Club series that has printed over 2.05 million copies in Japan. Under the title "Hyouka," the series
was adapted into a 22-episode TV anime by Kyoto Animation and aired from April to September 2012.
[映画ニュース] 山崎賢人&広瀬アリス主演で青春学園ミステリー「氷菓」実写映画化! https://t.co/Xqjr1Qnhlb #映画 #eiga pic.twitter.com/jo0fjnLarX

— 映画.com (@eigacom) November 21, 2016
Source: Eiga.com