Cast and story outline published for 3DCG movie adaptation based on freeware horror game by noprops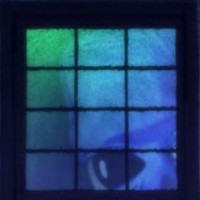 A wealth of new information is now available online for Aooni THE ANIMATION, an upcoming 3DCG theatrical anime film that is not to be confused with the humorous short form TV anime Aooni The Blue Monster, both of which are based on the same freeware horror game by noprops.
The story for the movie differs from the original video game: in Aooni THE ANIMATION, a group of high school students in the folklore club are researching the local legends of the "Kikyo Demon" which they believe inspired the creation of the popular Ao Oni video game. In order to create a presentation for the school's cultural festival, they agree to meet with the game's author, but the programmer suddenly dies under mysterious circumstances.
The club's investigations unearth a secret cellar at the school, a cellar in which something terrible was sealed nearly 40 years ago. Soon students and faculty members alike find themselves trapped inside by the school's fire doors and pursued by a murderous monster.
The cast for Aooni THE ANIMATION includes:
Ryōta Ōsaka as Koji Manabe, a 2nd year student and member of the folklore research club. Koji has an earnest but awkward personality. He serves as the club's coordinator.
Eri Kitamura as Junko Takashiro, a 3rd years student and member of the folklore research club. A cool beauty who wears eyeglasses, Junko is known for briskly taking charge of the club's activities.
Takahiro Mizushima as Shoichiro Murakami, a 2nd years student and member of the folklore research club. Shoichiro is Koji's best friend, and he's known for his light-hearted personality and carefree attitude.
Ayane Sakura as Karin Minazuki, a 1st year student and member of the folklore research club. Karin is the "idol" of the club, and she likes stories of yokai and obake.
Shūta Morishima as Sho Konaka, a 1st years student and member of the folklore research club. Sho is soft-spoken but has a hard-working and serious personality.
Kenji Nojima as Fumihiko Tachibana, a third years student who is handsome and popular with the girls. Fumihiko is secretly attempting to unravel the mysteries of chemistry.
Yōko Hikasa as Mifuyu Hatano, a beautiful school nurse who is adored by both the male and female faculty and students.
And Hiroki Tōchi as Kaoru Fujimoto, a history teacher who serves as the advisor of the folklore research club. Local historical research is Fujimoto's hobby. Fujimoto is a widower who is approaching retirement age.
Aooni THE ANIMATION is directed by Toshirō Hamamura and features 3DCG animation by Studio Deen. The film will be released in Japanese theaters in 2017.
Sources:
Official Aooni THE ANIMATION home page
Paul Chapman is the host of The Greatest Movie EVER! Podcast and GME! Anime Fun Time.