Team Rocket's blasting off again!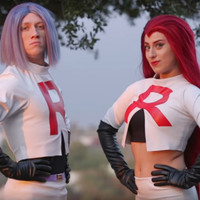 Elizabeth Rage is at it again with her DIY cosplay shop on the YouTube channel AWE me. She'll show you how to make the perfect Team Rocket cosplay outfit from Pokémon, and even show you the best way to style the wigs!
She shows you all the patterns you need to use, and how to make sure that pesky "R" doesn't get off center. Just follow Elizabeth's instructions, and you can show off your inner Jesse or James in no time!
[via YouTube]
-------
Fueled by horror, rainbow-sugar-pixel-rushes, and video games, Brittany is a freelancer who thrives on surrealism and ultraviolence. Follow her on Twitter @MolotovCupcake and check out her portfolio for more.