Someone's got some 'splainin to do.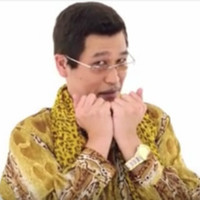 "Pen-Pineapple-Apple-Pen" has been an internet sensation, garnering over 90 million views on YouTube. "PPAP" has even charted om Billboard's Top 100, hitting #1 in Japan and #77 in the U.S. With all this popularity, the big question is, "How much money has Piko Taro racked in?"
The answer Piko Taro gave to that question was: "I haven't received a single yen from the song." This is incredibly strange, because the track is available as a paid download on iTunes, is commercialized on YouTube. Someone must be making a ton of cash off the viral sensation, and if Piko Taro is telling the truth, then someone needs to give him his due.
[via Yahoo Japan]
-------
Fueled by horror, rainbow-sugar-pixel-rushes, and video games, Brittany is a freelancer who thrives on surrealism and ultraviolence. Follow her on Twitter @MolotovCupcake and check out her portfolio for more.