"In This Corner of the World" jumps up to 6th in its third week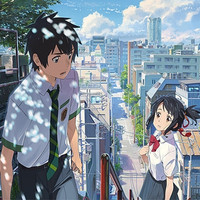 Toho confirmed today on November 28 that Makoto Shinkai's Kimi no Na wa./your name. had earned 19.4 billion yen (about 173 million US dollars) at the Japanese box office, surpassing Hayao Miyazaki's Mononoke-hime/Princess Mononoke that made 19.3 billion yen in 1997. The youth sci-fi film now ranks sixth in the all-time box office in Japan and has become the third most successful Japanese film in history. Within a week, it is expected to break the box office record of Miyazaki's second most successful film in 2004, Howl no Ugoku Shiro/Howl's Moving Castle, 19.6 billion yen.
Despite the historic commercial success, director Shinkai revealed at the prize-awarding ceremony for the 40th Yamaji Fumiko Film Award on November 25 that the level of his life had not been changed because he had received no money from the film's success yet.
Meanwhile, the anime film adaptation of Fumiyo Kouno's award-winning manga Kono Sekai no Katasumi
ni/In This Corner of the World jumped up to sixth from the previous weeks' 10th in its third week. And
KanColle: The Movie, a feature film sequel to the 12-episode TV anime adaptation of Kadokawa Games'
web browser game, made its debut on fifth.
Weekend box office in Japan (November 26-27)
1 (new). "Fantastic Beasts and Where to Find Them"
2 (1). "Kimi no Na wa./your name."
3 (2). "Museum"
4 (new). "Shippu Rondo"
5 (new). "KanColle: The Movie"
6 (10). "Kono Sekai no Katasumi ni"
7 (4). "Death Note Light up the NEW world"
8 (3). "Jack Reacher: Never Go Back"
9 (5). "Satoshi no Seisyun"
10 (7). "Oboreru Knife"
All-Time Box Office Top 10 in Japan (Japanese & foreign films combined):
1. "Spirited Away" (2001/30.8 billion yen)
2. "Titanic" (1998/26.2 billion)
3. "Frozen" (2014/25.48 billion)
4. "Harry Potter And The Sorcerer's Stone" (2001/20.3 billion)
5. "Howl's Moving Castle" (2004/19.6 billion)
6. "your name." (2016/19.4 billion)
7. "Princess Mononoke" (1997/19.3 billion)
8. "Bayside Shakedown 2" (2003/17.35 billion)
9. "Harry Potter And The Chamber Of Secrets" (2002/17.3 billion)
10. "Avator" (2010/15.6 billion)
"KanColle: The Movie" trailer
Source: Nikkei, Eiga.com, Mantan Web