Koichi Sakamoto (Power Rangers)-directed film hits theaters in May 2017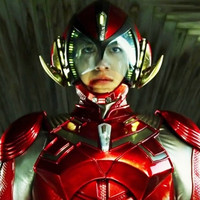 A poster visual and a 30-second first teaser for the upcoming live-action film adaptation of Tatsunoko Production's classic sci-fi action hero TV anime series Hurricane Polimar are now officially online. The clip introduces 27-year-old Junpei Mizobata as the hero in costume. He plays the protagonist Takeshi Yoroi who is a highly skilled kung-fu master, now working as a private detective. Hurricane Polimar is his first action-featured film, so he has been through hard training of various martial arts. The film will be distributed by Kadokawa in May 2017
Teaser
Poster visual
<『破裏拳ポリマー』ポスター&特報解禁!>タツノコプロ55周年記念作品『破裏拳ポリマー』のポスターと特報が解禁になりました!主演は溝端淳平、監督は坂本浩一。超個性的アクションヒーロー爆誕!!
特報はこちら→https://t.co/sCW0LNvje5 pic.twitter.com/odE6D8ZUpJ

— hurricane-polimar (@Polimar_Movie) November 30, 2016
TV anime "Hurricane Polimar" visual
(C) Tatsunoko Production
---
The original TV anime series featuring criminal investigator Takeshi Yoroi who can transform himself into
Hurricane Polimar was aired for 26 episodes in Japan from October 1974 to March 1975, and it was later
remade as a four-episode OVA series in 1996 and 1997.
The live-action film adaptation is directed by 46-year-old Koichi Sakamoto, who is well known for his
contribution to the Power Rangers series as an action director. In Japan, he recently served as an
episode director for Ultraman X and Kamen Rider Ghost, and is currently working on Kamen Rider
EX-Aid. 58-year-old Shinsuke Onishi, who was attached with the first four Heisei Ultraman series (Tiga,
Dyna, Gaia, Cosmos), provides a screenplay.
Source: "Hurricane Polimar" Live-action film official Twitter